An "incredibly rare" cannon recovered from the wreck of the predecessor to Nelson's flagship HMS Victory is to go on display for the first time.
The 42-pound cannon, which has been described as an "exceptional example of Georgian firepower", was salvaged from the wreck of HMS Victory 1744 which was only discovered 10 years ago.
It is the first artefact to go on show from the three-decked ship which lay undisturbed 246ft below a busy shipping lane for 260 years.
The sinking of the warship was one of the Royal Navy's worst naval disasters. Commanded by Admiral Sir John Balchin, all 1,100 crew were lost when it sank during a storm off the coast near Plymouth, Devon, in 1744.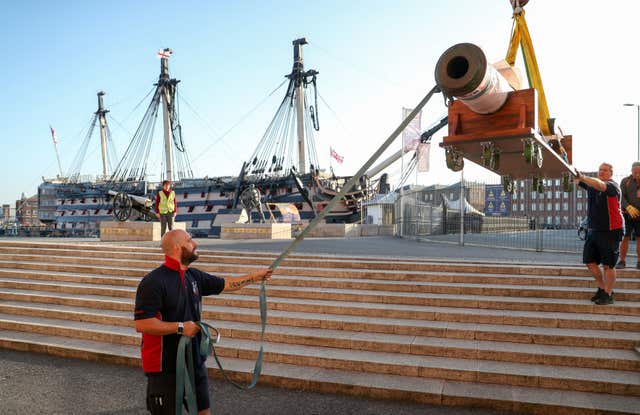 Professor Dominic Tweddle, NMRN director general, said: "The 42-pounder is an exceptional example of Georgian firepower and it adds to the mythology surrounding HMS Victory 1744 as an incomparable warship, one of the most technologically advanced of her time.
"It is considered of national and international importance. The cannon was transferred to us as custodians of Royal Navy heritage and our collection is so much richer for this.
"It was recovered with the permission of MoD in 2008 during non-invasive survey works and trial trenching and is incredibly rare.
"It is not just a display of strength and firepower but also of craftsmanship.
"With its elegant dolphins and intricate crests, it reflects the remarkable craftsmanship of the Georgian age and gives a fascinating insight into the type of firepower that enabled the Royal Navy to rule the waves."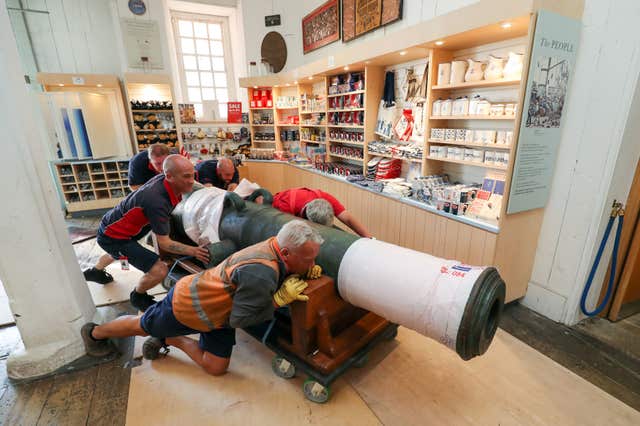 The wreck site was carefully investigated and 50 bronze cannon, a V-shaped iron anchor, the ship's rudder, over 40 iron ballast ingots and a selection of miscellaneous artefacts were recorded.
A 12-pound cannon was retrieved alongside the 42-pounder.
The manufacture of the bronze cannons was overseen by Andrew Schalch, whose name appears on the exterior.
Whilst undergoing conservation, excavation to their interior revealed that it was still fully loaded with hemp rope wadding, gun powder and a cannonball.
HMS Victory, a first class ship of the line was constructed at Portsmouth Dockyard in 1737 and launched on February 23 that same year as the greatest and most technologically advanced ship of its time.
At 174ft long and carrying up to 110 cannons, it was the largest, fastest ship of her era and the pride of the Royal Navy.
It sank in a storm on October 4 1744 after successfully liberating a Mediterranean convoy which had been blocked at the River Tagus in Lisbon by the French during the War of Austrian Succession.