The number of homicides in London so far this year has reached 100, with nearly three in five being fatal stabbings and one third of the victims aged 16 to 24.
Amid heightened concern about rising levels of violent crime, the grim tally in the capital includes 59 stabbings, 10 shootings and one case involving a knife and gun.
The death of a woman in her late forties following an arson attack on a townhouse in Woolwich, south London, on September 6 took the toll to 100 after the Metropolitan Police said they had launched a murder investigation.
The highest proportion of the victims – 34 – were in the age range 16 to 24 years, Press Association analysis shows, while 15 were aged 25 to 34 and 17 aged 35 to 44.
There has been renewed focus on the number of homicides in the capital this year, amid rising levels of violent crime in the UK.
With the lowest number of Metropolitan Police officers since 2001, there has also been a worsening of the violence on the capital's streets.
Metropolitan Police Assistant Commissioner Martin Hewitt, who has dealt with violent crime for around a decade, said in June that weapons such as zombie knives, hunting knives and machetes were being used more often.
Killings were more likely to be carried out by "feral" gangs of attackers rather than one assailant, and officers were being forced to effectively practise trauma medicine on stabbing victims due to the levels of injury.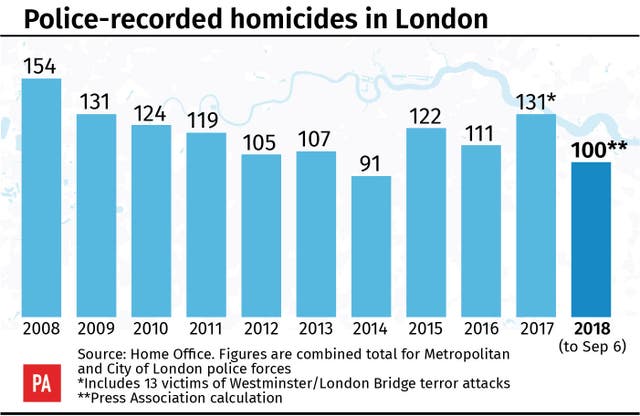 "We must take a long hard look at the causes of violence in all its forms."
The latest toll means it will be the fourth year in a row that at least 100 homicides have been recorded in London.
A total of 131 homicides were recorded in the capital in 2017, according to the latest Home Office figures. This includes the 13 people killed in the Westminster and London Bridge terror attacks.
Some 111 homicides were recorded in 2016 and 122 in 2015.
Before this the number of police-recorded homicides in London had been falling, from 164 in 2007 to 91 in 2014.
The equivalent proportion in 2015/16 was 15%, and in 2014/15 it was 17%.
This compares with 34% of victims in London so far in 2018.
Senior figures have blamed the drugs trade as one factor fuelling the violence, with Metropolitan Police Commissioner Cressida Dick, London Mayor Sadiq Khan and Justice Secretary David Gauke hitting out at middle-class cocaine users.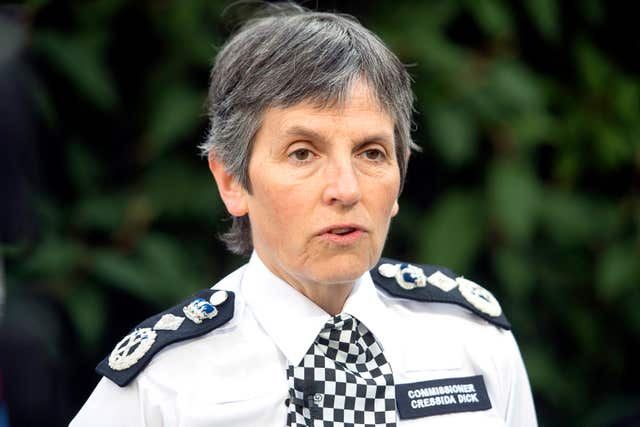 Police bosses have focused on cracking so-called county lines networks, where urban drug dealers force or manipulate children or other vulnerable people to courier banned substances to customers outside the city.
Between April and early September the Met's Violent Crime Taskforce also seized 1,500 knives, more than 180 guns, 600 other weapons and made 4,000 violent crime arrests.
And the commissioner has highlighted the role of social media in quickly escalating disputes between young people.
Some of this has been linked to the drill music scene, where rappers use songs littered with references to violence to taunt rival groups.
The homicide victims so far this year include Siddique Kamara, 23, who performed as Incognito, and Rhyhiem Ainsworth Barton, 17, who were both members of the Moscow17 drill group.
Another potential cause highlighted by youth charity workers is social deprivation.
Patrick Green, head of the Ben Kinsella Trust, said violent gang postcode wars are most likely to spring up in the poorest areas, while Beth Murray from Catch 22 said it is hard for young people to "find purpose" after cuts to youth services.