Tributes have been paid to a 62-year-old shop worker who was fatally stabbed in a late-night convenience store.
A 19-year-old has been arrested on suspicion of murder following the attack at the One Stop Shop in Sea Road, Fulwell, Sunderland at around 10.41pm on Wednesday.
The popular employee, who was well-known to local residents, was found with serious injuries and later died in hospital.
Derek Campbell, 55, said: "I have lived in the street for eight years. She's a nice lady, helpful, like all of them in that shop."
Mr Campbell said there have been problems with local drug addicts shoplifting food, sweets and alcohol.
He said: "They have been chased away and barred many times, but they take no notice."
Northumbria Police said the arrested suspect did not live "in the immediate vicinity".
Shakeel Rahman, 44, who works in a mobile phone shop nearby, said: "She was nice and polite.
"She only served me two days before. It is such a shame it happened to her."
Samantha Willis, 55, said: "I burst into tears when I heard. She was a lovely lady, very sweet, always on at night and she worked hard."
A One Stop spokesperson added: "We are shocked and saddened by the incident, our thoughts and deepest sympathies go out to our colleague's family and friends at this difficult time.
"We are currently supporting all colleagues involved and assisting police with their enquiries.
"Due to the nature of the incident, we are unable to comment any further at this time."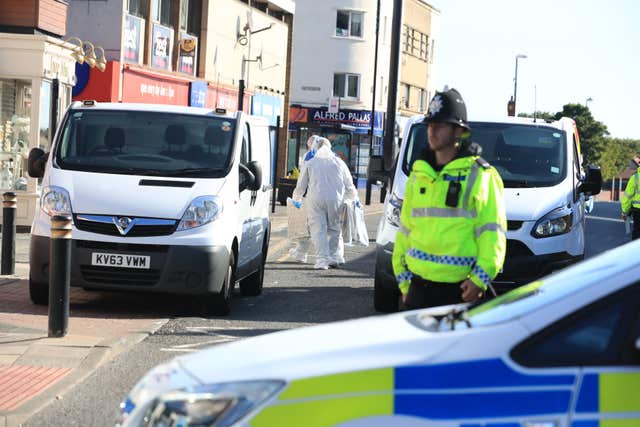 "An investigation is ongoing to determine the full circumstances behind the incident.
"I would like to pass on my sincere condolences to the woman's family, who are being supported by specialist officers at this time."
Forensic officers were seen going into the shuttered shop, which was at the centre of a wide police cordon and included side streets and back alleys.
Two parks were also cordoned off, and specialist search officers in blue boiler-suits and plastic gloves were seen arriving at the crime scene.
Officers were seen climbing ladders to search above shop fronts.
Anyone with information was asked to call 101 or Crimestoppers on 0800 555 111.