A West Highland white terrier has undergone emergency surgery after being "brutally attacked" by three Rottweilers while out for a walk at a beauty spot.
Eighteen-month-old Buddy was under anaesthetic for an hour-and-a-half during the treatment provided by vet charity PDSA following the attack at Upton Heath Nature Reserve in Dorset on June 6.
He suffered serious injuries including a broken leg, a deep gash on his abdomen and puncture wounds all over the body.
Buddy's owner, from Bournemouth, who did not wish to give her name, needed hospital treatment for bite wounds to her hand and shoulder and a cracked rib.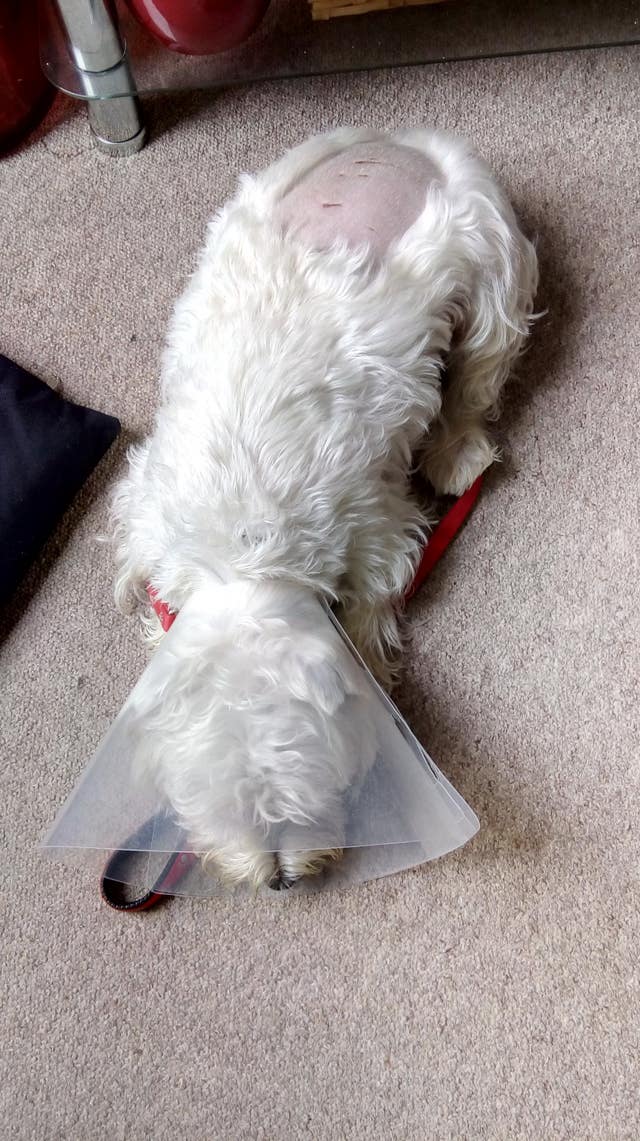 The owner said: "We were enjoying our walk and were about 10 minutes from home when we noticed a couple with three dogs in the distance. I saw the largest of these dogs stop and stare at us, going very still.
"I said to my mum 'I don't like the look of this dog' and within seconds it was charging at us. I picked Buddy up as the dog started jumping up.
"One of the owners came over but his other two dogs saw him running, raced ahead of him and knocked us both to the ground."
The woman was bitten on her hands and shoulders as she tried to pull Buddy away from the attacking dogs, who were taken away by their owner when the incident stopped.
Buddy's owner was taken to hospital for treatment for her injuries, while her mother rushed Buddy to the vet's.
PDSA vet Paul Cossey said: "Buddy was in a terrible state when he arrived, still in shock after his ordeal.
"He had broken his leg and had a large wound across his abdomen, which fortunately hadn't penetrated into his organs, as that could have proved fatal.
"After his complex surgery he was hooked up to a morphine drip to control his pain."
Buddy was allowed to go home the following day but has been back regularly for follow-up treatment to help with recovery.
Thanking the PDSA, his owner said: "They have been amazing and a huge support. The treatment Buddy has received has been first class.
"Buddy's wounds are starting to heal now but the psychological scars will last a lot longer.
!I'm now terrified to take him on walks and Buddy is a nervous wreck. Any slight noise he jumps out of his skin – I've even had to put a sign up asking people not to press the doorbell as it upsets him.
"People need to have control of their dogs, especially if they're a danger to other pets or people."