A letter written by Narnia novelist CS Lewis to a group of schoolchildren is expected to fetch more than £5,000 at auction.
The two-page letter was penned from the author's rooms at Magdalen College in Oxford on May 22 1952 to Grittleton House School in Wiltshire.
It was sent following the success of the first two books of The Chronicles Of Narnia and reveals that the third book will be called The Voyage Of The Dawn Treader.
"There will be lots about Reepicheep. And there will be a Sea Serpent, and a Dragon, and lots of strange islands. I do hope you will all like it."
He explains that there will be a total of seven stories that make up The Chronicles Of Narnia, claiming that he does not yet know what will happen in the end.
Lewis writes: "What do you think would be a good thing to end the whole series with? Of course Aslan (the lion) will come into them all."
The author recommends some of his favourite books, including JRR Tolkien's The Hobbit and Kenneth Grahame's The Wind In The Willows.
He asks: "Do you write stories yourselves? I did at your age: it is the greatest fun."
Grittleton House, an independent co-educational school, had only opened a few months before Lewis sent the letter to pupils.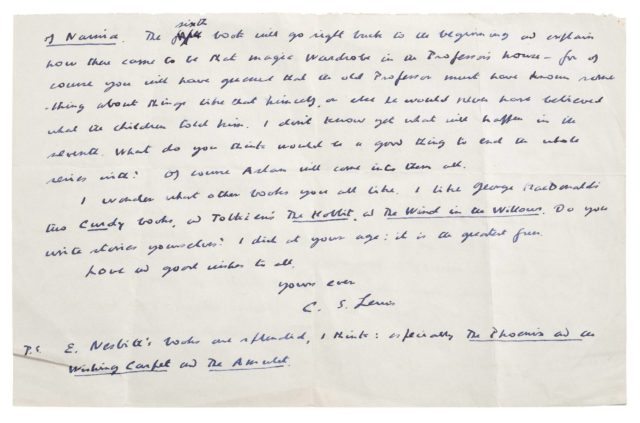 Auctioneer and cataloguer Chris Albury, of Dominic Winter Auctioneers near Cirencester, Gloucester, described the letter as "an absolute delight".
"It is full of warmth and interest and shows a genuine curiosity to engage with the storytelling and story making interests of these children he had not met," Mr Albury said.
"When he was writing The Voyage Of The Dawn Treader he thought it would be the last in the series, so the news that he now believed that the series would contain seven stories is new and fresh in his mind.
"It is these kinds of insights that are literary autograph collecting gold dust and we expect keen competition from transatlantic collectors, institutions and dealers.
"We've had two good CS Lewis letters previously fetch about £4,000 each and we think this is the pick of the bunch so could do better."
The letter will be auctioned on September 12.