Primark will continue to pay workers from its Belfast store until December 31, after the site was devastated by fire last month.
Around 300 people worked at the discount fashion chain in the historic Bank Buildings in the city centre, according to the company.
The front section of the building, which was being refurbished and extended at an estimated of cost of £30 million, was destroyed by a fire which broke out on Tuesday, August 28.
Some 1,500 staff and shoppers were safely evacuated from the blaze, which went on to burn for three days.
Firefighters were able to prevent the flames spreading to an extension at the rear of the building.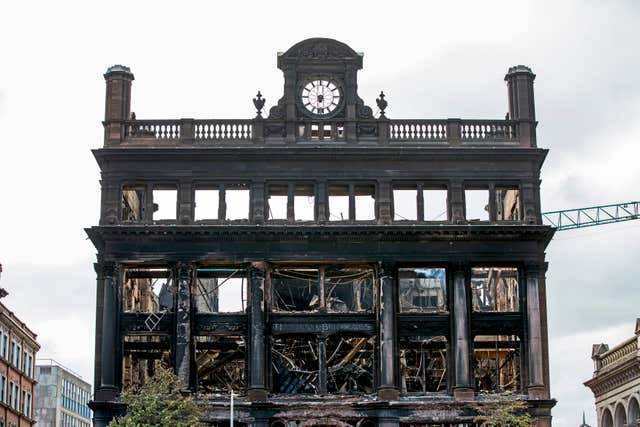 This sparked fury from other businesses who remain within the cordon and unable to trade, with some calling for the Bank Buildings to be demolished, instead of work continuing to preserve the historic facade.
In a statement on Friday, Primark said it is "working very closely with the authorities to determine the best approach to reducing the size of the safety cordon as soon as feasible".
"In the immediate aftermath of the fire, we established a team of specialist engineers to advise on how to secure the structure as soon as possible," the company said in a statement.
"The priority was to remove elements that posed an immediate risk to public safety.
"This specialist team continues to survey the building to determine its structural integrity and to inform the best next steps to reduce the cordon restrictions.
"All options are being explored for the future of the structure."
The company revealed it will continue to pay its Bank Buildings staff until the end of December.
"We can today confirm that we will be paying all Primark Bank Building colleagues until Monday 31 December 2018," the company said.
"We will be allocating individuals to other Primark stores, taking into account each team member's individual circumstances.
"We are aiming to have the team back at work from Monday 17 September. Primark is holding one-to-one discussions with colleagues to ensure that important factors such as additional travel expenses are also taken into account."
Primark also restated its commitment to Belfast.
"Since the fire Primark has been working hard to identify suitable premises for a replacement Primark store.
"Primark remains committed to our colleagues, customers and retail community in Belfast."
Meanwhile, Belfast City Council said a dedicated phone line has been set up (028 9027 0483) for those affected.
From next week, where this can be safely facilitated, the Council will begin assisting traders located within the cordon who wish to access their property.
A statement said; "A list of vacant properties that could be used for possible relocation has been drawn up, and a facility for temporary office accommodation at various locations has been offered to businesses.
"Land and Property Services has issued businesses with updated advice regarding rates and Department for Communities are offering assistance and advice regarding benefits and employment for affected employees.
"Price Waterhouse Cooper has offered help and advice on issues such as insurance and business interruption.
"All options for increasing footfall and animating the city centre are being considered, and a campaign is urgently being developed with Visit Belfast, Belfast One and other city partners to support retailers and sustain visitors over the next four months."