One person has been arrested after police received reports of an individual in Barnsley town centre with a knife.
One man suffered minor injuries, South Yorkshire Police said.
Officers were called at around 8.20am on Saturday after reports that a man had been stabbed.
The force said: "An investigation is now under way and in its early stages to establish whether this is an isolated incident and whether the individual acted alone."
There is a high-visibility police presence in the town centre, the force added.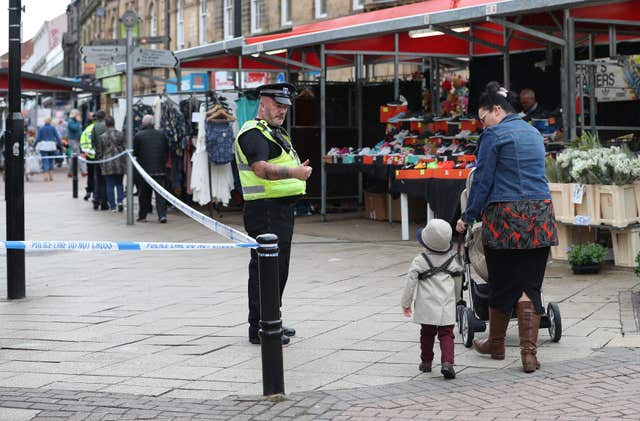 A man in a forensic suit was seen looking into the bin with what appeared to be a mirror.
People working in shops in Barnsley Interchange station said they saw officers rushing around the area at around 8am.
Hannah Fuller, 24, a member of staff at the Subway sandwich shop, said officers rushed towards the railway platform and businesses had been forced to close for an hour.
She told the Press Association: "We had to close for an hour – Peel Street was closed. The police haven't told us anything."
A man who works in a shop in Barnsley Interchange said: "We saw all the police running round."
The man, who did not want to be named, said it was business as usual in his store but confirmed that he saw police "running through the bus station".
He said this happened at around 8am, adding that from what he could gather it was towards the end of the station nearest the Alhambra shopping centre.
Police urged members of the public to be vigilant and report any suspicious activity.