Nicola Sturgeon and the SNP have been challenged to back holding a public vote on the UK's final Brexit deal.
Scottish Liberal Democrat leader Willie Rennie demanded Ms Sturgeon and her party "get off the fence" on the issue of a so-called people's vote.
He called on them to "stand up for Britain's place in Europe" and to "put your voice behind a public vote on the deal".
Mr Rennie made the plea as he delivered his keynote speech to the Scottish Liberal Democrat Party conference in Dunfermline, where he argued the "case for a Brexit deal referendum is growing".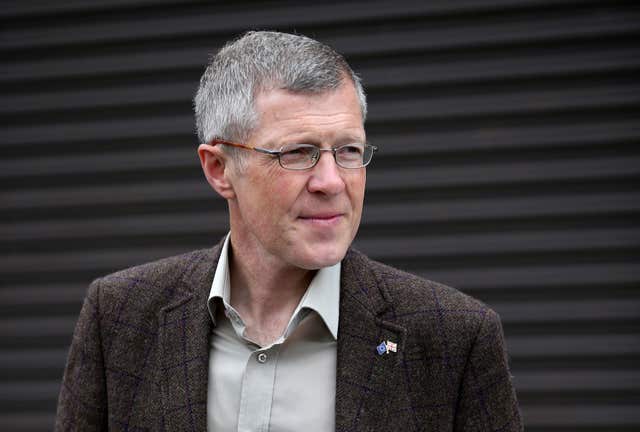 Ms Sturgeon has said the SNP would not "be a block" to such a ballot, but neither she nor her party have backed the case.
With Britain due to formally leave the European Union at the end of March, Mr Rennie said time is running out for nationalists to take a stand.
He said: "The SNP say they are open-minded on a final say. But they have been open-minded for two years now. There's only 200 days left.
"They aren't open-minded, they are paralysed by indecision."
He said that while the Scottish Government had appointed a minister for Brexit, post holder Mike Russell has "spent so long sitting on the fence on a people's vote that he has transformed into the minister for splinters".
Mr Rennie hit out: "Who'd have thought it. The SNP turning into Little Britain. Yeah, but no, but yeah, but no."
Scots voted against leaving the EU in 2016, but despite the result north of the border the UK as a whole backed Brexit.
SNP figures have questioned what would happen if that was repeated in a second referendum.
But Mr Rennie said if the SNP "stepped up", the outcome could be different.
Speaking to journalists afterwards, the Lib Dem MSP insisted: "This time the SNP should learn their lesson from last time and rather than sitting on the fence like they did last time, they should lift a finger and help us win.
"Because they weren't helpful, they sat it out, they talked more about the negative campaign in London, they talked more about what happens if England votes one way and Scotland votes another. You would get the impression they actually wanted Brexit to happen from all the talk last time.
"It's time they changed their attitude and actually came on board and fought to stay in the European Union, rather than using it as a means to drive another independence referendum.
"Because they really sold the country short last time, they should really step up and try to do something this time."
Elsewhere in his speech, he pledged the Liberal Democrats would support parents and teachers in any boycott of national tests for primary one pupils in Scotland.
The controversial national standardised assessments have been brought in by the SNP administration, but Mr Rennie said international evidence showed children under the age of seven should have a "play-based approach to learning".
He hit out at the Scottish Government's "return to Thatcherite national testing" and said while he expects MSPs to vote against the assessments for four and five-year-olds at Holyrood, the SNP will "probably ignore that".
He vowed: "If pupils, parents and teachers boycott these tests, we will stand with them.
"These tests are damaging and they've got to go."
He also used his speech to make clear the Liberal Democrats would not support any SNP budget at Holyrood if the party "keeps an independence referendum on the table".
With Ms Sturgeon not having an overall majority in the Scottish Parliament, her party has relied on support from the Scottish Greens to pass its budget in the last two years.
But they are "threatening to stand up to them this year", and Mr Rennie sent a message to Finance Secretary Derek Mackay that "for the Liberal Democrats to be in, independence has to be out".