Theresa May risks a "catastrophic split" in her party if she persists with her Chequers plan for Brexit in the face of its overwhelming rejection by activists at this month's Conservative conference, a former minister has warned.
Steve Baker, who quit as a Brexit minister over Chequers, said he hoped Tories would come out of conference united behind a Free Trade Agreement (FTA) solution to Britain's future relations with the EU.
The former chairman of the Eurosceptic European Research Group warned that Mrs May faces "a massive problem" at the Birmingham gathering because of the scale of opposition to Chequers among grassroots members.
The ERG aims to build momentum behind the FTA option ahead of the September 30 opening of the conference by publishing proposals to resolve the issue of the Northern Irish border.
With just 200 days to go to the scheduled date of Brexit, he said that the PM would lack credibility with Brussels negotiators if she tried to press ahead with the blueprint agreed at her country residence in July without the backing of her party and with 80 or more Tory MPs ready to vote it down in the Commons.
"When negotiating, the Prime Minister needs to demonstrate her intent and also her power to deliver," Mr Baker told the Press Association.
"If we come out of conference with her hoping to get Chequers through on the back of Labour votes, I think the EU negotiators would probably understand that if that were done, the Tory party would suffer the catastrophic split which thus far we have managed to avoid."
Mr Baker stressed that he was not advocating a change in leadership and said Tory critics of Chequers "do not want to be in a position of conflict with our own Prime Minister" and would give her "absolutely every support" in forging a free trade deal.
"Time is running awfully short for anyone who thinks a leadership contest and a general election is a good idea," said the Wycombe MP.
But he said that, with Labour indicating it will vote against Mrs May's Brexit white paper package, it would be "fanciful" to expect her to secure parliamentary approval for Chequers.
"We are reaching the point now where it is extremely difficult to see how we can rescue the Conservative Party from a catastrophic split if the Chequers proposals are carried forward," he said.
"It is absolutely no pleasure whatsoever to me to acknowledge that, but I look at the mood of colleagues and the mood of the Conservative party in the country and I am gravely concerned for the future of our party.
"I am gravely concerned because I recognise that the Labour opposition represents a severe danger to our security and our prosperity."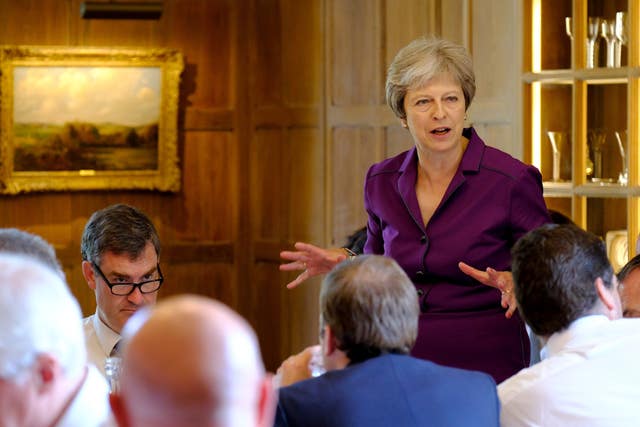 As well as tariff-free trade in goods and services, this deal – often referred to as Canada-plus – would offer co-operation in areas such as security, energy and culture, he said.
If this could not be achieved in time for Brexit Day, it would be possible to leave without a deal and negotiate a trade agreement as an independent nation.
Mr Baker said: "I hope we will emerge from conference with the party united around the idea that we can either leave having accepted the EU offer or we have to leave with nothing agreed – but that the Chequers proposal is not acceptable as a lasting basis for our partnership.
"What we need out of conference is a new resolve that these are the choices before us."
Mr Baker said that the ERG had decided to hold back on publication of its detailed plan for the future relationship, in order to focus on the Irish border issue, which he said was the "key to the gate" to a satisfactory agreement.
He declined to give details of proposals on the border, but said that resolving the issue was "a matter of political and administrative will" and there would be "no single magic bullet".
He told PA: "What Eurosceptics want is basically the deal which the EU has offered to us. The prison in which we are being held is the border issue in Ireland.
"Because of the way the Prime Minister has worked through these issues, she has ended up putting forward the Chequers proposal which effectively leaves us half in, half out.
"We would be subject to EU interests which we couldn't control in all those areas where Chequers meant we had made this upfront decision to commit ourselves to whatever law the EU has given us.
"It is not acceptable."