Attacks on West Midlands Police officers are reaching "crisis" levels amid rising violence, gun and knife crime on the region's streets, the police federation has said.
Six officers were injured in a 36-hour period in the region with the West Midlands Police Federation saying the "unprecedented" levels of attacks had rounded-off a summer of violence.
Richard Cooke, branch chairman, said he knew of at least 10 different incidents this year where he believed officers had come close to being killed.
Speaking on behalf of the organisation representing the force's rank and file membership he said he feared there was now "more chance" of an officer being killed in the line of duty.
He added on one occasion, an officer had been "throttled unconscious" in a Birmingham city centre pub.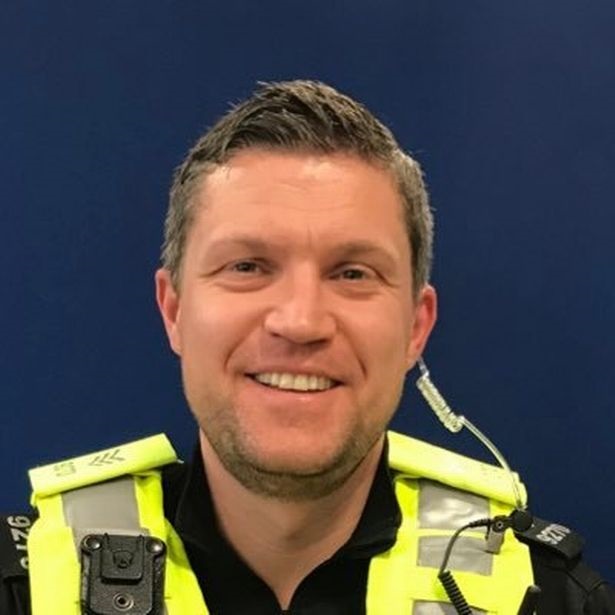 He has called for policy-makers and police force leaders to either increase "boots on the ground" or make sure all frontline officers have access to equipment, like Taser.
Mr Cooke said that with about 3,300 frontline officers on the force, only about 850 were currently Taser-armed – with 1,400 planned by next year.
However, Mr Cooke said if the trend of rising violence against officers continued longer-term the option of "routine arming" of officers with sidearms would need to be raised.
He said more often police in the region were dealing with offenders carrying not only knives but machetes, as well as guns.
In a spate of recent incidents in the West Midlands, on Thursday a female police officer was left with a serious head injury, punctured lung and broken ribs after being run over and "left for dead".
The 50-year-old officer had been trying to resolve a domestic incident in Walsall.
A manhunt is underway for 51-year-old Clover Johnson whom West Midlands Police named as "prime suspect".
Hours earlier, an officer suffered back and neck injuries after his patrol car was rammed during a pursuit of a suspect in a shop robbery.
In the early hours of Wednesday, an officer had his leg broken and two colleagues were hurt, when their armed response vehicle was rammed after pulling over a suspected stolen car.
One officer, based at Brierley Hill, near Dudley, was also punched and bitten responding to a report of a domestic disturbance, Mr Cooke said.
They followed a widely-publicised incident an off-duty West Mercia Police officer was stabbed in a botched car-jacking in Great Barr, Birmingham, on Wednesday.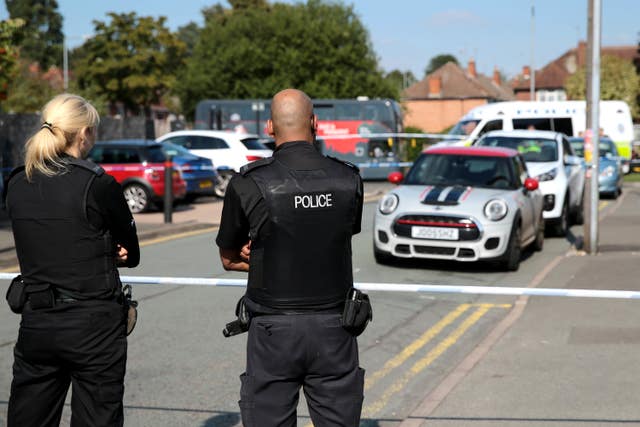 After the spate of incidents, the force's assistant chief constable Chris Johnson, had said: "These incidents highlight once again the dangers our brave officers face every day.
"The very nature of the job means officers go into challenging situations and acknowledge the risks they face.
"Despite this, officers put themselves on the front line protecting our communities from harm."
But Mr Cooke said: "I think officers feel more exposed than ever before.
"They are feeling like they haven't necessarily got the right equipment to cope with the violence we are seeing in terms of knives and the potential to see a firearm.
"It seems we're coming across them more regularly.
"We had an incident where we had an officer run over and left for dead, an another officer left with a broken leg after a firearms pursuit.
"There's some really serious injuries.
"Earlier this year we had a female officer throttled to unconsciousness in a pub in the city centre.
"The only way the force can help us is giving us the opportunity of having Taser available to all frontline officers and having a zero-tolerance approach to people who assault police officers."
Mr Cooke added: "It's reaching crisis levels."
He said: "I'm saying that in the short-term, the officers need back-up and if they aren't able to get boots on the ground, there needs to be extra equipment to support them.
"If, longer-term, we won't bet more boots on the ground, I think we are increasingly going to be moving towards arming our frontline police."
Mr Cooke said years of police cuts had taken a toll on rank and file officers' morale, and even new investment would take time to turn things around.
He said: "The chickens have come home to roost.
"We've had 10 or so incidents this summer where if one factor had changed, they could have been fatal.
"The fact is there's more serious injuries of officers and when there's more serious injuries, there's more chance of someone getting killed."
The force's chief constable, David Thompson, has previously said cuts to police budgets have impeded its ability to deal with rising crime.
The Home Office has previously said decisions about front line policing, and how resources are best deployed, are for chief constables and police and crime commissioners.