Businessman Sean Gallagher and Senator Joan Freeman have secured nominations to challenge in Ireland's presidential election.
The two hopefuls have gained the required four nominations from local councils and now take their place on the ballot paper beside incumbent President Michael D Higgins in October's poll.
Leitrim, Mayo, Roscommon and Wexford county councils all backed Dragon's Den star Mr Gallagher to run in the election.
The 2011 runner-up declared his intention to run again two weeks ago following weeks of speculation.
Senator Freeman secured the crucial fourth nomination from Galway City Council on Monday evening, having earned the backing of Fingal and Galway County councils earlier in the day.
She was nominated by Cork County Council last week.
Businessman Gavin Duffy, another star of Ireland's version of Dragon's Den, secured his second endorsement after Carlow County Council backed his bid on Monday.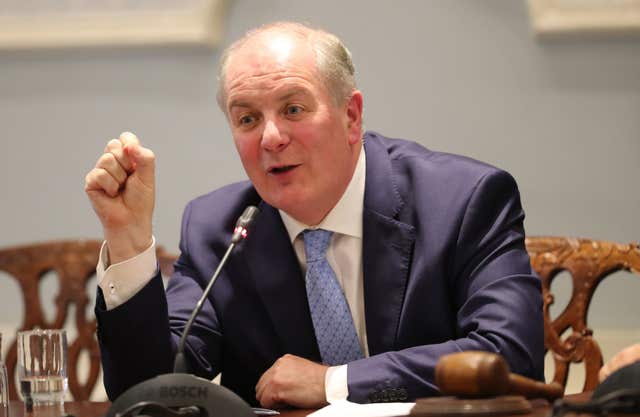 Senator Freeman appeared in Fingal County Council alongside artist Kevin Sharkey on Monday afternoon.
They were the only two candidates who appeared before the council after presidential hopeful Gemma O'Doherty pulled out an hour before the session began.
She was due to face questions from Councillor Jimmy Guerin, brother of murdered journalist Veronica, after she suggested the state was involved in her killing.
Mr Guerin opened up the session by criticising Ms O'Doherty's comments as "offensive and hurtful".
"It insults the thousands of ordinary people who contacted our family and were a great sense of support in a difficult time."
He said there was no conspiracy or state involvement in Veronica's murder, adding: "It's 22 years since Veronica was brutally murdered.
"Time doesn't make it easier, but it hurts when a presidential candidate, who in my view is going nowhere, for cheap publicity tries to speak ill of my sister and makes unfounded allegations against her and this state.
He added: "For years I ignored Ms O'Doherty, but now she is seeking a nomination to be president it makes it a lot more difficult to do.
"I would rather Ms O'Doherty use something else to gain publicity. I would ask her to allow my sister to rest in peace."
His speech was met with a rapturous applause from the council chamber.
In her address to the council, Ms Freeman spoke of her work at Pieta House and mental health.
"I stood down from Pieta House three years ago – I've served my country and I want to continue to serve it in the biggest possible way," she said.
Despite there being only two candidates who appeared before the council, Mr Sharkey failed to be backed by one councillor.
Ms Freeman said she had the energy and power to fight the election campaign, but added she will have to rely on donations to fund it.
"People who believe in me will help me get over the finish line," she added.
"I think President Michael D Higgins is my competitor, he's much loved and that's exactly right.
"What I'm saying is that maybe we should be changing our focus, Michael D Higgins brought dignity to this country and was perfect for the time but our electorate will always vote for the President that is needed for that time.
"I put my head above the parapet simply because I believe in what I am trying to do, I know I will be scrutinised but I believe so passionately in what I am doing."