Several major international companies operating in Northern Ireland have called for same-sex marriage to be introduced.
Business leaders from sectors including finance and law advanced economic arguments for change and said an inclusive workforce free to express itself was more productive. They said reform would help attract the best talent from around the world.
Leigh Meyer, managing director of the Citi financial services firm's operation in Belfast, said: "Today is the start of a ground-breaking journey for the business community in Northern Ireland, we make a stand with the LGBT community and apply pressure on the legislative bodies to make marriage equality a reality.
"It is not just the right thing to do, it is the only thing to do, it is the proper thing to do.
"We all seek for Northern Ireland to be inclusive, equitable and fair, a progressive society that includes all of its citizens and residents in access to basic rights and opportunities."
Northern Ireland is the only part of the UK or Ireland to outlaw same-sex marriage.
Its biggest party, the Democratic Unionists, oppose change on religious grounds, arguing civil partnerships are available to same-sex couples but marriage is between a man and a woman.
Consultants Deloitte and PwC, Bank of Ireland, Ulster Bank, soft drinks manufacturer Coca Cola Ireland and law firm Pinsent Masons were among those who signed a letter calling for the landmark reform.
John O'Doherty, director of the Rainbow Project which advocates for same-sex marriage, said it represented leadership from a sector which could not be ignored.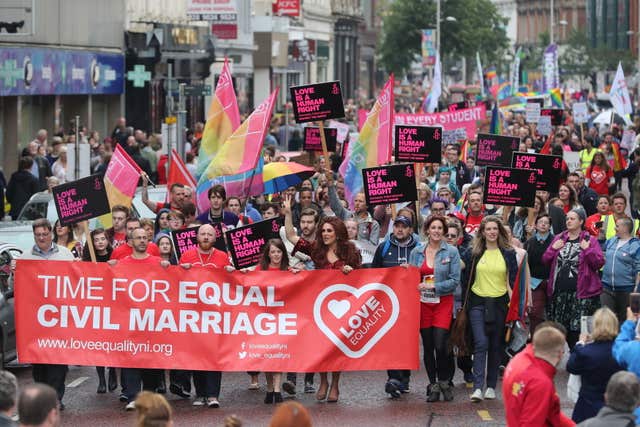 "They can hold their heads high and know that they are respected and supported and valued by their employers. Parents who fear for their children, you have shown them that they are not only welcome but celebrated."
He highlighted the brain drain from Northern Ireland at a time when firms are competing to attract the best talent for their multi-national operations.
The joint letter from businesses said: "As employers we encourage and welcome diversity and inclusion in our workforce and recognise the rights of our lesbian, gay, bisexual and/or transgender employees to be themselves and to live and work free from discrimination, prejudice or exclusion.
"To achieve that goal, we believe our people should have equal access to the same rights, entitlements, responsibilities and freedoms enjoyed elsewhere in the United Kingdom."
DUP leader Arlene Foster has attended a PinkNews event at Stormont at the invitation of Citi.
Sinn Fein's former Stormont finance minister Mairtin O Muilleoir was among those present for Tuesday's business campaign event at Ulster Bank in Belfast.