The number of NHS staff vacancies has increased and is expected to rise further by the end of year, new figures show.
There were 107,743 vacancies in England at the end of June, up from 98,475 in March and bucking a downward trend seen in 2017/18, according to a quarterly report.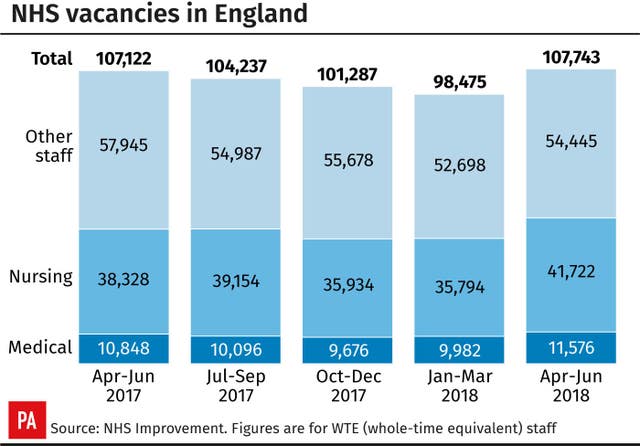 Independent think tank The King's Fund warned growing nurse shortages "risk becoming a national emergency" and are "symptomatic of a long-term failure in workforce planning".
Around 1.1 million full-time staff are currently employed by the NHS, the figures from NHS Improvement show.
There were 41,722 nursing vacancies across trusts in England at the end of June, 80% of which were filled by bank or agency staff, and 11,576 unfilled posts for doctors, 85% of which were plugged with temporary workers.
Between April and June, NHS trusts spent £805 million on bank staff, £102 million more than planned, and an additional £599 million on agency staff, which was £32 million over-budget, according to the report.
Siva Anandaciva, chief analyst at The King's Fund, said: "After a punishing summer of heatwaves and ever-increasing demands on services, today's report shows that the NHS is heading for another tough winter.
"Widespread and growing nursing shortages now risk becoming a national emergency and are symptomatic of a long-term failure in workforce planning, which has been exacerbated by the impact of Brexit and short-sighted immigration policies."
Trusts across England were £814 million in deficit at the end of June, the report also reveals.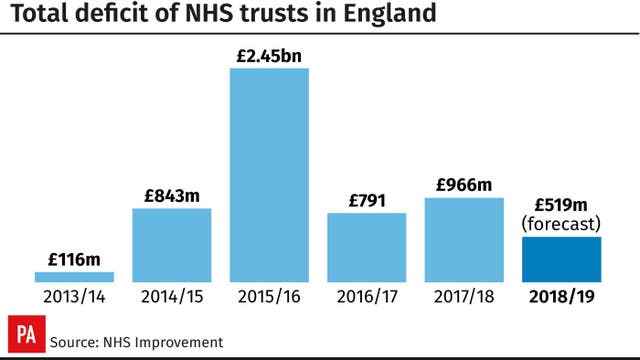 The projected deficit for the end of 2018/19, which stands at £519 million, is "clearly unaffordable", the report said.
A&E staff saw 5,602,531 patients in less than four hours between April and June, compared to 5,427,860 in the same period last year, despite a rise in attendance, the figures show.
However, 3,402 patients were waiting longer than 52 weeks for elective treatment in June, compared to 1,475 at the same time last year.
Chris Hopson, chief executive of NHS Providers, said trusts "are doing all they can" to respond to increasing demand, workforce shortages, and financial pressures.
"However hard they run, they don't seem able to outpace the increase in demand," he said.
"Trusts tell us they are most worried about the workforce shortages they face, and it's a real concern that these figures have shown such a big increase in vacancy levels.
"It's worrying that this problem is getting worse rather than better."
Ian Dalton, chief executive of NHS Improvement, said: "Staff are working extremely hard to cope with a rise in A&E attendances and high occupancy levels.
"A&Es up and down the country have been successful in treating more patients than ever before within four hours.
"We are helping trusts ensure that no-one stays in hospital longer than they need to, so that beds are free for other patients who urgently need them."
A Department of Health and Social Care spokesman said: "Despite 22,000 more emergency admissions a month than this time last year, hard-working staff have continued to provide world-class care.
"To support their efforts we're training 25% more doctors, nurses and midwives, giving a significant pay rise to over a million staff, and investing in the future of the NHS so that by 2023/24 it will receive £20.5 billion a year more than it does now."