Bank of England policymakers are set to sit tight on interest rates on Thursday after last month's milestone hike and following encouraging news on the economy.
The Monetary Policy Committee (MPC) is expected to vote for no change, having increased rates to the highest level in nearly a decade last month – to 0.75% from 0.5%.
The noon decision comes after the Chancellor confirmed on Tuesday that Bank governor Mark Carney will stay on until January 2020, extending his term by seven months to help support the UK through Brexit.
The MPC vote also follows economic cheer after official figures on Monday showed the UK economy bounced back in July, with growth hitting 0.3% in July and 0.6% on a three-month basis.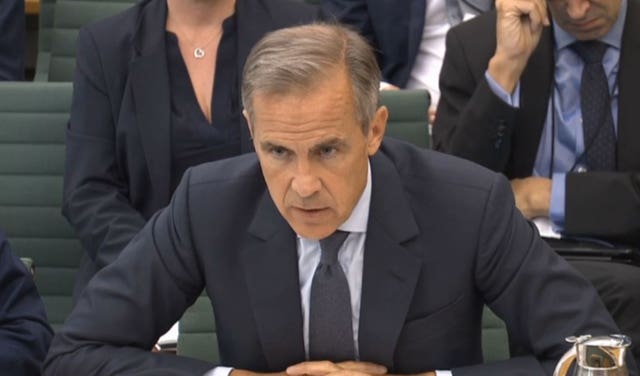 It is thought the July data could put the economy on track to beat expectations for third-quarter growth of 0.4%.
But economists are not expecting the Bank to push the button on any more rate rises for some time.
Howard Archer, chief economic adviser at the EY ITEM Club, said: "The Bank of England will highly likely regard GDP growth… as justifying its decision to raise interest rates from 0.50% to 0.75% in August."
There had been initial fears the Bank may have raised rates too soon after official figures for the second quarter showed that while growth rebounded overall by 0.4%, expansion stuttered in the final month, with growth of just 0.1% in June.
But increasing anxiety over Brexit negotiations is set to stay the MPC's hand despite the better July performance.
"We do not expect any more (rises in) interest rates until after the UK leaves the EU in March 2019, given the major uncertainties that may occur in the run-up to the UK's departure," added Mr Archer.
Mr Carney said in August that rates would need to rise further to bring inflation back to the 2% target over the next few years, though he stressed hikes would be "limited" and "gradual".
Inflation appears to be back on the rise already after a recent brief respite, rising in July for the first time since November, to 2.5% from 2.4% in June, although this was largely due to higher transport costs.
The rates decision follows confirmation of Mr Carney's decision to stay on in the role, having already told MPs last week he was "willing to do whatever" he could to help promote a smooth Brexit and transition at the top of the Bank.
There had been mounting press speculation over whether he would stay on until 2020, but questions have since been swirling over talks between Mr Carney and the Chancellor, with some concerned about the lack of transparency.
Former MPC member Andrew Sentance hit out at process.
He wrote on Twitter after the announcement that it was "totally contrary to the spirit and letter of 2012 Bank of England Act. A shocking abuse of procedure which totally undermines the concept of BoE independence".