Three friends who chased a machete-wielding man in Hull on their bicycles have been described as heroes after they overtook police to corner the suspect at the city's train station.
Tony Pawson, Corey Banks and Paul Garner, all from Hull, gave chase on bicycles after a 24-year-old man who allegedly entered two banks in the city centre with a machete and canister of petrol then fled the scene.
Mr Pawson, 33, said: "Ladies with prams were running out of the bank with staff members. There were loads of screams and police, then a guy with a canister of petrol and a meat cleaver starts swinging at the coppers.
Video filmed by Mr Banks, 20, shows the trio racing through the streets on Tuesday afternoon towards the station, overtaking officers on foot as sirens blare in the background.
Mr Pawson said he shouted for passers by to get out of the way as the man was "trying to terrorise people, swinging his machete around".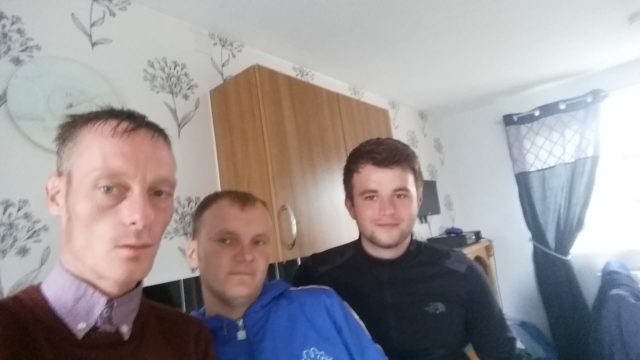 Lily Pridmore, a 17-year-old student from Cottingham, saw the men arrive at the station and try to apprehend him themselves.
She said: "Lads on bikes had followed him from the bank to the station and tried to corner him off before he went into the actual station, but he got away.
"When the lads stopped him outside the station he held up the meat cleaver, then he got past them again, which was when two more police cars pulled up to the station.
"When he was stopped by the lads again in the actual station, he was smirking and giggled."
Mr Pawson said the man looked "scared and confused" by the time they reached the station.
"By this point the coppers had caught up and they cornered him and shot him in the side with a rubber bullet and then another copper deployed the Taser," he added.
People on Facebook described the trio as heroes.
"You should all be awarded a medal for your bravery," one person wrote.
Mr Pawson added: "I just tried to keep a cool head and keep people away, but obviously my adrenaline was going like mad."
Humberside Police said in a statement: "The 24-year-old man arrested on suspicion of criminal damage, arson with intent to endanger life, possession of an offensive weapon and affray, remains in police custody being questioned by detectives.
"At this time, there is no evidence to suggest any link to terrorism and it does appear to be an isolated incident."