The sales value of oil and gas produced in Scottish waters has risen by almost a fifth in the past year to around £20 billion, despite a dip in output.
Official statistics show the approximate oil and gas sales value has increased by 18.2% between 2016/17 and 2017/18, from around £17 billion to £20 billion.
At the same time, output has dropped from 75 million tonnes of oil equivalent to 73.7 – down 1.7% – but sales value has not suffered due to the increased international price of oil and gas.
Production in Scotland accounted for 81% of the UK total, down from 82% the previous year which marked an 18-year high.
Operating expenditure, excluding decomissioning, on oil and gas production in Scotland has risen by almost a billion between 2016/17 and 2017/18, from £5.3 billion to an estimated £6.2 billion.
Capital expenditure has fallen by £2 billion in the same period, to £5.8 billion.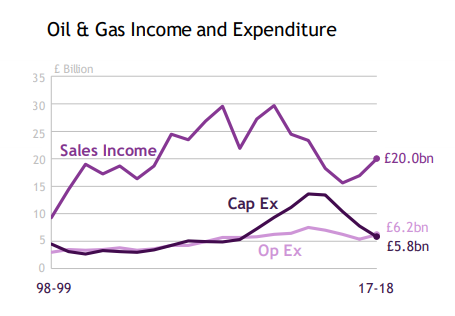 "These figures reflect the increased price of oil and gas on the global markets and show confidence is continuing to return to the sector.
"At the same time the industry faces continuing challenges, including issues around exploration, and the Scottish Government will continue to do what we can to support the sector.
"However, the UK Government retains most of the key policy levers affecting the offshore sector, so we will continue to argue they should bring forward measures to rebuild exploration activity and to maximise economic recovery, while also providing an immediate boost to the supply chain."
Scottish Green climate and energy spokesman Mark Ruskell accused the Scottish Government of having a "muddled and confusing" climate change strategy.
He said: "There's a big contradiction in SNP politicians on one hand asking the Prime Minister to bolster the renewables sector while on the other hand demanding that oil 'exploration activity' is reignited.
"You can't have a long term energy and climate strategy based on more of everything, the transition away from oil and gas needs to accelerate now, taking the jobs with it into renewables."
Scottish Labour's energy spokesman Lewis Macdonald said: "It is welcome that the oil and gas industry is beginning to recover from the dark days of 2014 and 2015, but these figures reaffirm just how fragile that recovery is.
"Exploration is at the lowest level since the industry began in 1965, while the continued fall in capital expenditure suggests that firms are reluctant to invest in and create new North Sea assets."