A woman is believed to have become the first pedestrian to die after being hit by an electric bike in the UK.
The hit and run occurred on August 28 when Sakine Cihan, 56, of Dalston, east London, was attempting to cross a road in the area, the Metropolitan Police said.
She died later in hospital.
Cycling UK said it was not aware of any previous UK pedestrian fatalities involving a collision with a so-called e-bike.
The charity insisted the bikes did not pose "any greater risk" than conventional versions. Under UK law, the electric assistance on e-bikes must cut out at 15.5mph.
Scotland Yard said the male cyclist involved in the crash on Kingsland High Street, Dalston, initially stopped after falling off his bike, but quickly fled the scene.
He was riding a Specialized branded e-bike, which was later abandoned and then recovered by police.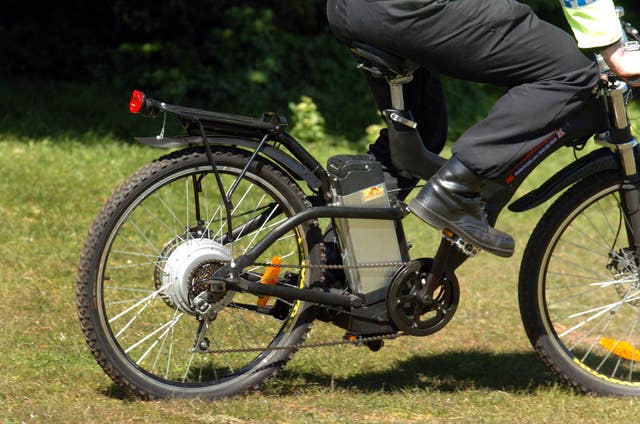 He was taken into custody and subsequently released under investigation.
Last year, cyclist Charlie Alliston was jailed for 18 months at the Old Bailey for killing mother-of-two Kim Briggs while riding an illegal Olympic-style racing bike which had no front wheel brakes.
Alliston was cleared of manslaughter but found guilty of causing bodily harm by "wanton and furious driving".
The Government is planning to bring in new laws around causing death by dangerous cycling.
Department for Transport figures for 2016 show that 448 pedestrians were killed on Britain's roads, but only three cases involved bikes.
Duncan Dollimore, Cycling UK's head of campaigns, said: "Cycling UK's thoughts are with Ms Cihan's family during this difficult time resulting from this tragic incident.
"There's a popular misconception that e-bikes power people about without any effort, when in fact the engine only helps riders' pedalling to reach 15.5mph – at which point it cuts out.
"This is a speed many people regularly cycle at, and can actually improve the cyclist's safety as they are able to keep up with the wider traffic flow, particularly in urban areas.
"The statistics show cyclists, whether on a conventional or e-bike, present a minimal danger to others.
"Given the limitations and current laws governing e-bikes, Cycling UK does not believe there is any reason to suggest their use poses any greater risk to the public than a normal pedal cycle."