Ireland's premier Leo Varadkar has confirmed that US President Donald Trump has postponed his visit to Ireland.
There was uncertainty over his visit to Dublin after a Washington official said they was still finalising whether Ireland would be a stop on the President's itinerary in Europe, where he is due to mark the centenary of the end of the First World War.
The White House announced on August 31 that he will travel to Paris for a commemoration of the centenary of the Armistice.
Mr Trump was due to make a two-day visit to the Irish Republic during which he was expected to visit his golf course in Doonbeg, Co Clare, on the west coast and Dublin around the weekend of November 10 and 11.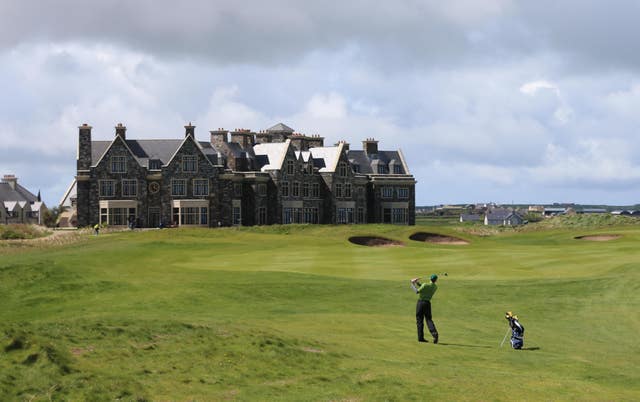 "Ties that of course are cultural, economic and are in our families as well.
"So many of us, including me, having US relations.
"We can all agree the future US-Ireland economic relationship is of profound importance to all of us here."
The Fine Gael leader was addressing an audience of Irish and American business leaders and White House representatives, including Kevin Hassett, chair of the White House Council of Economic Advisors.
It comes after a spokesman for the Irish Government said Mr Trump's visit was postponed over "scheduling reasons" by the US.
Speaking at the US-Irish economic conference, Mr Varadkar said that as the UK prepares to leave the European Union in a few months, the Irish-US relationship is "going to become all the more important with Ireland acting as a bridge to the EU for the US".
After recent reports described Ireland as a tax haven, Mr Varadkar said the country is "fully compliant" with international best practice standards.
He added: "Ireland is not a tax haven, we do not wish to be a haven, nor we wish to be seen as one.
"We are only one of 23 countries in the world that is fully compliant with the new international best practice as judged by the Global Forum on Transparency and Exchange of Information. And we'll continue to crack down on avoidance on the years ahead."
He added: "At a time when others in Europe are looking to close their doors, Ireland is a country that is open and tolerant and diverse."
He said one in six Irish residents were born abroad, including his father who was born in India.
He added: "(This) makes us one of the most international countries in Europe.
"I believe the relationship that exists between our two countries goes both ways."
He added that Irish businesses in America employ more than 100,000 Americans in a wide range of industries.
Mr Hassett, chair of the White House Council of Economic Advisors, also addressed issues around an EU tax plan on large digital firms including Facebook and Google, which have their EU headquarters in Dublin.
Under the proposal, EU members would charge a 3% levy on digital revenues of large firms.
Mr Hassett was asked whether he believes the proposal was a tax on the US and US companies.
He said: "It has often been that US firms that are successful are singled out. I believe that the very strong partnership between Ireland and the US is going to be strengthened in the years to come because for so long the UK and Ireland were often the voices of reason when the more left-wing countries in the EU were deciding to swashbuckle and go after the US and other companies.
"There's a globally important responsibility for Ireland in the future."