The Duke of Cambridge asked schoolchildren learning chopstick skills if they had eaten "much Chinese food" at the opening of a cultural centre celebrating Japan.
He looked momentarily uncomfortable before swiftly correcting himself, saying "sorry I mean Japanese food".
Prince William was touring Japan House on London's Kensington High Street on Thursday, taking in examples of the country's finest art, design and gastronomy.
"Just like me and my wife," William told them, admitting the Duchess of Cambridge is more "arty and creative" than he is.
The duke also sipped sake rice wine in a morning toast, and tried some "delicious and amazing" salmon sashimi prepared specially by famed chef Akira Shimizu.
"My wife and I love sushi," William said. "We might have to come down here for lunch when there's no-one else down."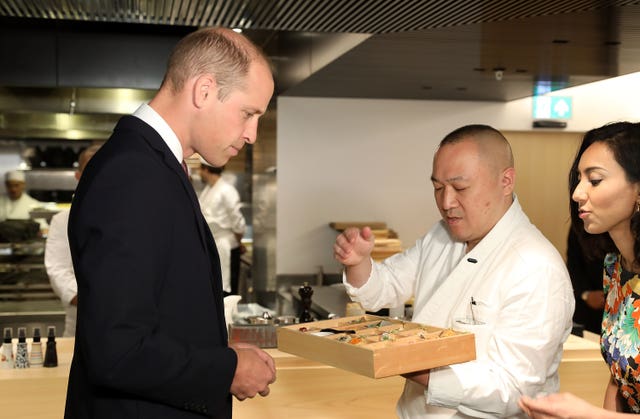 William also saw a demonstration of the ancient craft of copper-beating, where objects like kettles are fashioned out of a single sheet of the metal.
Japan House aims to deepen understanding of the East Asian island nation as it prepares to host both the 2019 Rugby World Cup and the 2020 Tokyo Olympic and Paralympic Games.
William said "holding a rugby ball always gets me excited", and he noted that sport seems to reliably cut across cultures.
Mr Aso thanked William for his work on fighting the illegal wildlife trade in a speech, and said his presence at the opening "promises to enhance the magnetic power of this house".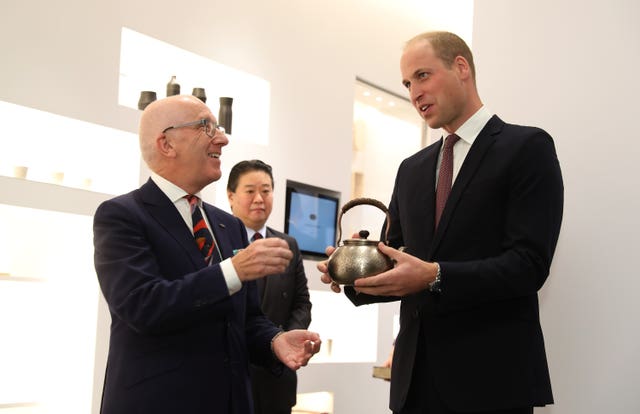 He also offered condolences over the series of deadly natural disasters which have hit Japan this summer.
William added that he had been "deeply honoured" to visit Japan three years ago where he saw the "wonderful blend of ancient and modern which so characterises your amazing country".
He finished by unveiling a plaque and leading a traditional kanpai toast, where sake is enjoyed from a wooden cup called a masu.