Prison staff accused of taking "unlawful" action by walking out over violence and safety concerns in jails will face an injunction, the Government has said.
Members of the POA, the trade union for prison staff, were asked to demonstrate outside prisons in England and Wales from 7am over "unprecedented" levels of violence "until instructed otherwise".
The action had knock-on effects on court cases, with some defendants in custody unable to be transported to hearings.
At Sheffield Crown Court, an important sentencing was abandoned involving a gang who sold drugs and guns in Hull after at least two defendants failed to arrive, while sentencing for a double stabbing was postponed at Luton Crown Court.
The Ministry of Justice (MoJ) said it was seeking an injunction. It is not clear when this will go before the High Court.
It follows the latest in a series of damning reports which warned of a "dangerous lack of control" at HMP Bedford, their union said.
Around 50 officers were outside the prison on Friday, with members recalling how one colleague's arm was broken with a pool cue while another had his head stamped on.
Richard Gilbert, who has been an officer for 14 years at the facility, said he was suffering with PTSD and depression after a group of inmates repeatedly kicked him in the head.
Those demonstrating have received a letter signed by governor Helen Clayton-Hoar ordering them to return to work and threatening disciplinary procedures and docked pay packets.
"It's irresponsible for the POA to encourage their members to take this unlawful action. We are deploying our contingency plans but, by not turning up for work, these prison officers are putting their fellow staff and inmates at risk."
POA general secretary Steve Gillan said prison officers were demonstrating against the "unprecedented decline in health and safety standards over past six years".
He told the Press Association: "Under legislation the Government and employer have a duty of care toward my members, and I'm fed up of hearing of my members receiving smashed eye sockets, broken arms, broken legs, broken jaws, being attacked, spat on, having excrement and urine thrown at them, and enough is enough now.
"We need ministers to start taking control of what's going on."
The POA, which said it has 20,000 members in England and Wales, said about 90% of prison staff were members of the union.
It estimated around 5,000 staff will take part in the demonstrations.
Inmates have effectively taken control at the violent, overcrowded and vermin-infested jail, his report said.
The HMP Bedford report is the fourth urgent notification the Government has issued since the scheme was introduced less than a year ago.
The process has also been triggered in relation to HMP Nottingham, HMP Exeter and HMP Birmingham.
Standards across the prison estate have come under intense scrutiny in recent years amid a slew of highly critical reports and a deterioration in safety measures.
In his annual report for 2017/18, Mr Clarke warned that staff and inmates have become "inured" to conditions unacceptable in 21st-century Britain.
He highlighted how thousands of inmates are living in squalid and overcrowded cells, locked up for nearly 24 hours a day.
Official figures published in July revealed that assault and self-harm incidents were continuing to rise, both reaching new record highs.
Authorities are also faced with a major task to stem the flow of contraband, with discoveries of drugs, mobile phones and Sim cards on the increase.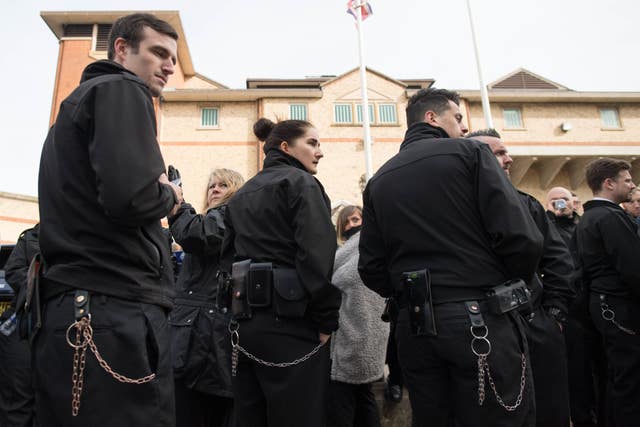 The MoJ said it doubled the prison sentence for anyone who assaults prison officers on Thursday.
It is also investing £40 million to improve the estate and tackle the drugs problem, with 3,500 new officers to help ease the burden.