The Westminster terrorist could have been heading towards the Prime Minister's office after stabbing a police officer to death, an inquest heard.
Khalid Masood ran over four pedestrians, fatally injured Pc Keith Palmer and appeared to be heading towards the entrance to Parliament looking for another victim when he was shot dead.
Senior Parliamentary Assistant Antonia Kerridge watched the horrific events unfold from her office in Portcullis House opposite.
When Masood crashed his car into railings outside the Palace of Westminster, Ms Kerridge initially thought protesters were cheering until she saw casualties bleeding on the floor and a knife man.
She told the inquest he lumbered around the corner waving the knife as screaming people scattered, glancing over their shoulders.
Describing the attack on Pc Keith Palmer inside New Palace Yard, she said: "The policeman had collapsed and the attacker ran over to him and just stabbed him two or three or four times.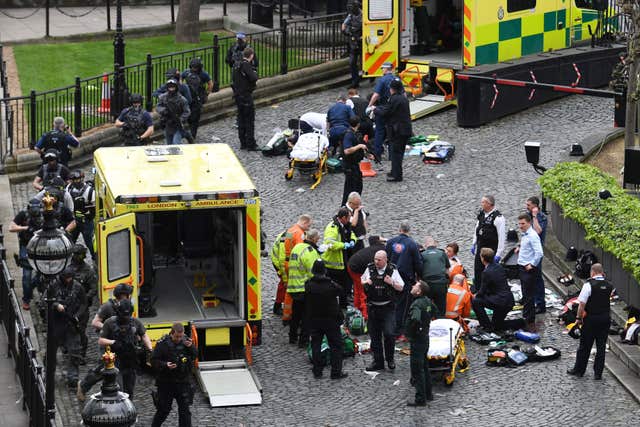 "And then the policeman stood up after the attack and ran past and then collapsed out of my view."
Gareth Patterson QC, for families of some of the victims, said the attack came after Theresa May had finished Prime Minister's Questions.
He asked: "If he had made it to the members' entrance does it allow him access to the Chamber?"
Ms Kerridge said there was a network of corridors and rooms, but they would eventually lead there.
Mr Patterson continued: "We know there had been PMQs that day at 12pm and PMQs had finished by the time of this attack."
He suggested Mrs May had her parliamentary office in the building beyond the entrance.
The witness said: "Presumably yes, along with other ministers who would work there."