The last of the UK's Lehman Brothers staff will finally be let go this month, 10 years after the bank's disastrous collapse helped trigger the financial crisis.
Lehman's European hub in London employed around 5,500 staff when the bank went bust in 2008, but the transfer of its equities business to Nomura and a subsequent round of redundancies left about 500 staff to assist administrator PwC.
A decade later just a handful remain, taking up a corner 23rd floor of the Citibank building in Canary Wharf.
Most are finance or product specialists, lawyers or compliance staff – though Russell Downs, a PwC partner and lead administrator for Lehman Brothers International Europe, says it's been "a good few years" since any traders were part of the team.
"We've got probably 25 desks… but most of them are part time. A few PwC people still and actually a number of the Lehman people leave at the end of this month, having had a very busy year," he said.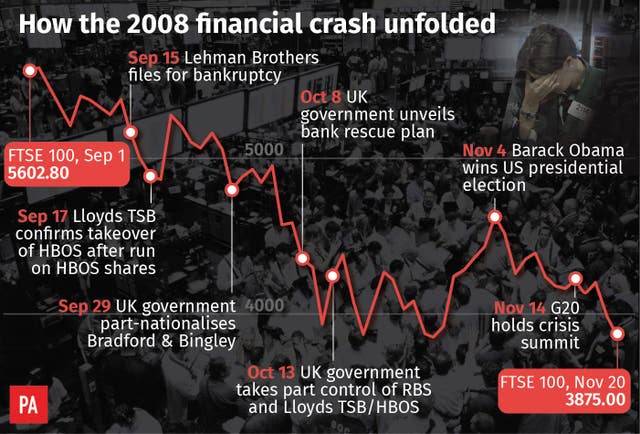 Lehman Brothers filed for bankruptcy on September 15 2008, sending shockwaves across global markets just over a year after the credit crunch began.
Mr Downs said administrators had little guidance at the time on how to wind down such a large and complex business.
"We had 5,000 people, we had no money, we had an imminent payroll to match, we had no access to data or systems, computer screens were blank," he told the Press Association.
"At that time, the rules weren't sufficiently developed to deal with anything of the size… we were left with no choice but to find our own sort of informal plan."
That involved paying around £17 billion in assets back to the Lehman clients and a further £36 billion of cash and assets to creditors.
With the approximately £2.7 billion in administration costs already accounted for – £1 billion of which were PwC fees – creditors were left wrangling in the courts to claim their share of the remaining £8 billion surplus.
Those cases were settled in June this year, and Mr Downs says there is still a year of work ahead before the administration process comes to a complete close.
Around £3 billion is now left over for closing down the estate "in an appropriate way", and there is still the issue of a Supreme Court case versus HMRC over withholding tax.
Mr Downs said: "I'm not sure it can be done that much quicker but it will probably take a year whilst we shut things off, close things down, do our final accounting, deal with some sort of longer dated issues and – best will in the world – that always drags on a bit and takes longer."
He said that while administrations can drag on, the length of Lehman's case is still trumped by the likes of conglomerate Polly Peck and Enron.
"Thankfully within financial firms, failure doesn't happen that often," he said.
"I don't think anything like Lehman of that size and scale will happen again but at least we have everything ready in case something significant does happen."