Sir Vince Cable has rejected claims he is "running out of road" as Liberal Democrat leader, as he again refused to set a firm resignation date.
The former business secretary's "slow-motion resignation" has caused unease among some colleagues after Sir Vince insisted he would stay on until Brexit is "resolved or stopped", and hoped to lead the party into local elections next May.
Pressure increased on the ex-Cabinet minister after former leader Lord Menzies Campbell said Sir Vince "can see the end of the road".
A defiant Sir Vince responded by telling BBC One's The Andrew Marr Show: "I'm not running out of road, there's a lot of road ahead."
Asked if he would still be party leader by the end of next year, Sir Vince said: "I think that's uncertain. I have a series of tasks to do. I'm going to do them. I'm not setting a time horizon. I think it would be foolish to do so with so much uncertainty flying around."
Pressed on being at the helm at the time of the next slated general election in 2022, he said: "2022 is a long time off, I think it's improbable, actually, that I will be leading us then."
Lord Campbell told the Daily Mirror: "You know when you've run out of road. I think he can see the end of the road.
"He's given it his best shot. He has brought stability, which was necessary."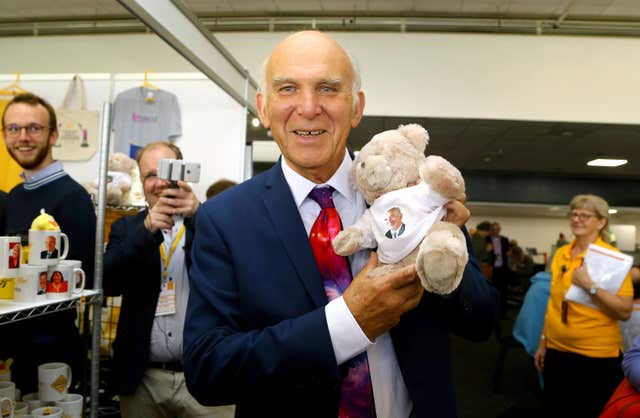 The Lib Dem leader warned that levels of debt in the economy are "dangerously high".
Asked if links between austerity measures introduced by the coalition government and the Brexit vote outcome caused him any regrets, Sir Vince told a Lib Dem conference fringe meeting: "Yes, it does.
"One of the aspects of… austerity that did most harm was the massive cutback in public investment.
"I know that it's the emotive stuff around social security spending that gets people angry. But the thing that did harm was the big cutbacks in investment. And that is what has caused many of these northern communities to continue to decay."