MP Tobias Ellwood had to be ordered to stop first aid efforts to save stabbed Pc Keith Palmer in the wake of the Westminster terror attack.
The former soldier held back tears as he relived the desperate attempts to save the 48-year-old's life.
Giving evidence to the inquests into the victims' deaths at the Old Bailey on Monday, the ex-green jacket recalled using his military medical training to lead the first aid given to stricken Pc Palmer.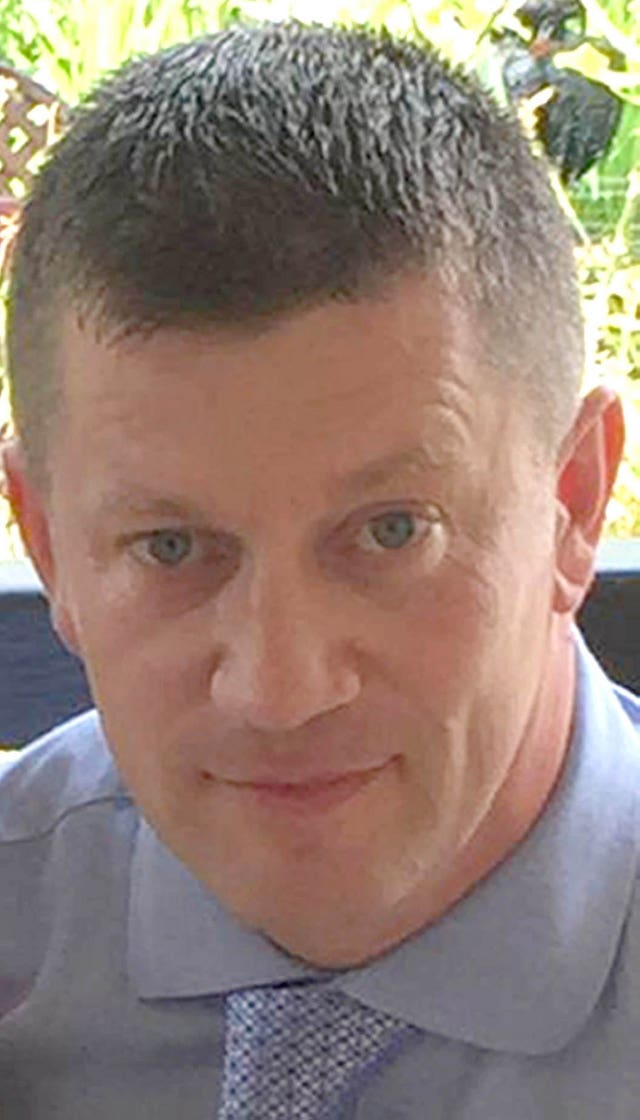 "I looked at him and said, 'you're going to have to tell me to stop. You must order me to stop. You're going to have to make that decision'.
"He said, 'sir, you have done your best. We do need to stop'."
The Tory MP for Bournemouth East told how he ignored fears of a second terror attack as he went to help.
Mr Ellwood told the court: "My brother was killed in a secondary attack in Bali (a 2002 terrorist bombing in Indonesia) … so I was very aware of that.
"I was concerned about what would happen if things were to ratchet up, but my immediate concern was that we had somebody who was clearly badly bleeding and needed assistance."
Scotland Yard's deputy commissioner Sir Craig Mackey, who was then acting head of the force, was a passenger in a car yards away as Pc Palmer collapsed to the ground and Masood was shot three times by a plainclothes officer, the inquest heard.
Mr Ellwood said he first became aware that something was wrong when he heard a "significant crash" followed by "screams" when the carnage unfolded on March 22 last year.
"These were not screams of pain, they were screams of shock, which is slightly different," he said.
Mr Ellwood said he would have been behind Masood as he launched the attack if he had taken his usual route to Parliament.
"I know I would have stepped forward and I regret not having the opportunity to do so," he said.
The defence minister then saw two waves of people with "panic in their eyes" as he made his way to Parliament through the underground passageway.
"They were shouting, 'go, go, go, go' and, 'go back, go back'," he said, before his attention was drawn to the area where Pc Palmer was attacked.
"My first observation was the number of armed officers that were pointing their weapons towards Carriage Gates," he said.
"I have never seen so many armed officers with their weapons out in the Houses of Parliament.
"Some, I think, were crouching in positions of protection, but all were aiming their weapons towards Carriage Gates.
"I could see there were two bodies lying in the ground and activity around both of them.
"The nearest one was clearly a police officer, with other officers attempting to give him support."
Mr Ellwood said he stepped forward, making clear who he was to the armed officers, ignoring the risk to his own safety to help administer first aid.
"With no disrespect to those who were trying to give support to their fellow officer, I could see they could perhaps do with some assistance," he said.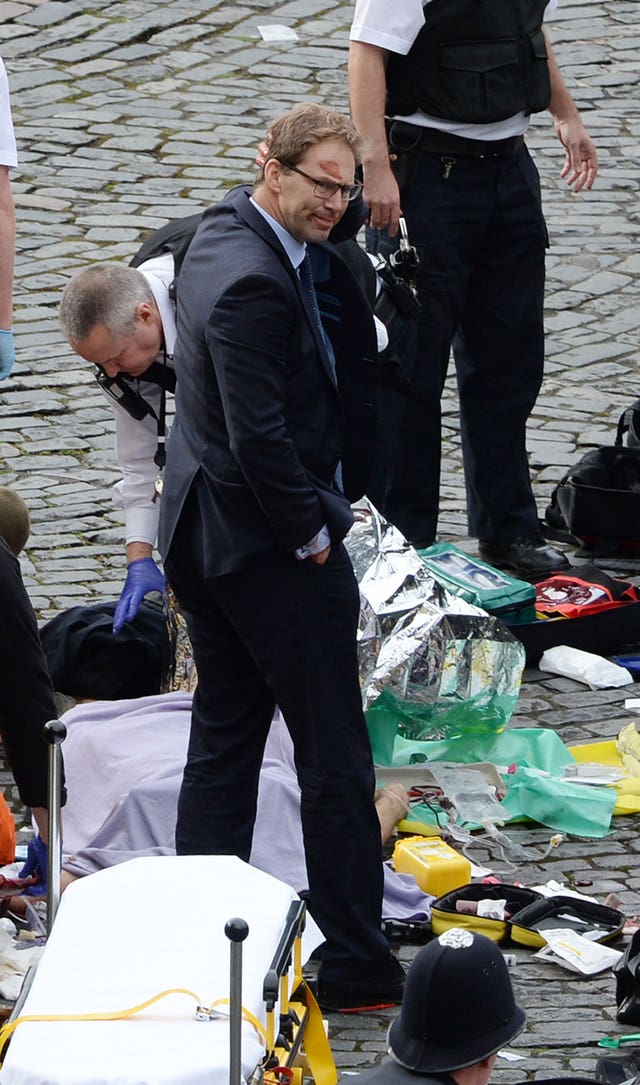 "Immediately I started going through the drills to provide the necessary first aid support to the officer."
The MP said Pc Palmer had lost a lot of blood and appeared pale, but had a pulse, although his wounds, particularly one underneath his left arm, were significant.
"He had lost a huge amount of blood and consequently that was going to be a significant feature," he said.
"Unfortunately, as is the case in these situations, eventually his heart stopped as did his breathing, and that's when I commenced CPR."
Mr Ellwood said there was a "sense of relief" when paramedics in green uniforms got to the scene, while he felt "the cavalry have arrived" when he saw doctors from the helicopter ambulance.
But he was told to continue performing CPR.
Pausing and appearing to fight back tears, he recalled the dramatic events when doctors opened Pc Palmer's chest as they desperately tried to save his life.
He said: "Forgive me, it's sometimes easier to do the helping rather than to talk about it afterwards."
He described the "eerie silence" at the Palace of Westminster as it stayed in lockdown in the aftermath of the carnage.
Mr Ellwood and one other person were left with the officer's body after he was declared dead at 3.15pm.
He said: "We both covered the body as best we could, closed the eyes and I said, 'I'm sorry'.
"It was very, very silent, it was a very strange end to a very traumatic four or five minutes, to suddenly be left completely alone with just one other person."