Things we learned at the Liberal Democrat conference on Tuesday.
– It was supposed to be the killer line that would leave conference with a happy ending as Sir Vince Cable was set to use somewhat lurid talk of hardline Brexiteers enjoying the "erotic spasm" of breaking with Brussels to bring the house down.
Instead, it provoked an unhappy bending of minds as the audience tried to work out what exactly an "exotic spresm" was after the Lib Dem leader fluffed his big, bouncy sound bite.
– And Sir Vince is no stranger to dealing with the erotic as readers of his racy thriller Open Arms know all too well. 
In the book, fictional defence minister Kate Thompson is described as having "sex in cheap and dirty hotels in India with an unkempt Aussie".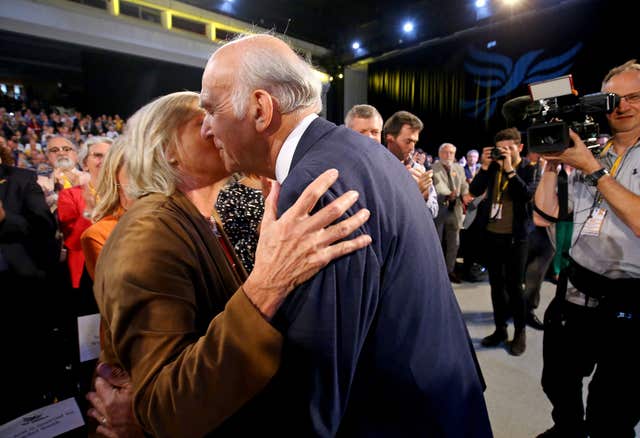 Which begs the question: What the hell kind of metaphorical pseudo-sexual insult did he have about Jacob Rees-Mogg and the Brexiteers in the first draft of his conference speech?
– The gathering's growing adult theme had been set in train on Monday night at the surreal bizarreness that is the Lib Dem Glee Club event.
This resembled a weird sort of drunken howl of rage mass therapy session where hundreds of revellers shouted out obscene new lyrics to classic songs from specially produced booklets.
Highlights included ex-leader Tim Farron's rather agonised position on gay sex coming in for a roasting to the tune of Pet Shop Boys It's A Sin.
– It's a good thing Sir Vince does not believe in personalised attacks because if he did he would be absolutely vicious judging by the supposedly non-personal one he launched on Boris Johnson.
Branding Mr Johnson a "large, loud rabid right twin" of Donald Trump, the Lib Dem leader said one of the traits the ex-foreign secretary shared with the US president was "their treatment of women". Ouch.
– There was more fiction from Sir Vince when he excitedly told a fringe meeting he had just managed a "diplomatic crisis" as the Chinese ambassador stormed out of the Lib Dem conference in protest at the presence of a Taiwanese representative.
On closer investigation it emerged it had merely been the ambassador's aide at the gathering.