Dark looming clouds and torrential rainfall have failed to dampen the spirits of thousands of people who travelled across Ireland to attend the country's national ploughing championships.
President Michael D Higgins officially opened the championships, which are now in their 87th year, in Co Offaly alongside his wife Sabina on Tuesday.
Almost 300,000 people are expected to attend the three-day outdoor event showcasing Irish rural life in Screggan near Tullamore, which is the largest of its kind in Europe.
More than 1,700 exhibitions and trade stands are on display with the ploughing competitions at the heart of it all.
In the early 1930s, when it first started, there were about 90 pairs of horses taking part in the ploughing competitions each year.
This year there are almost 350 competitions taking place.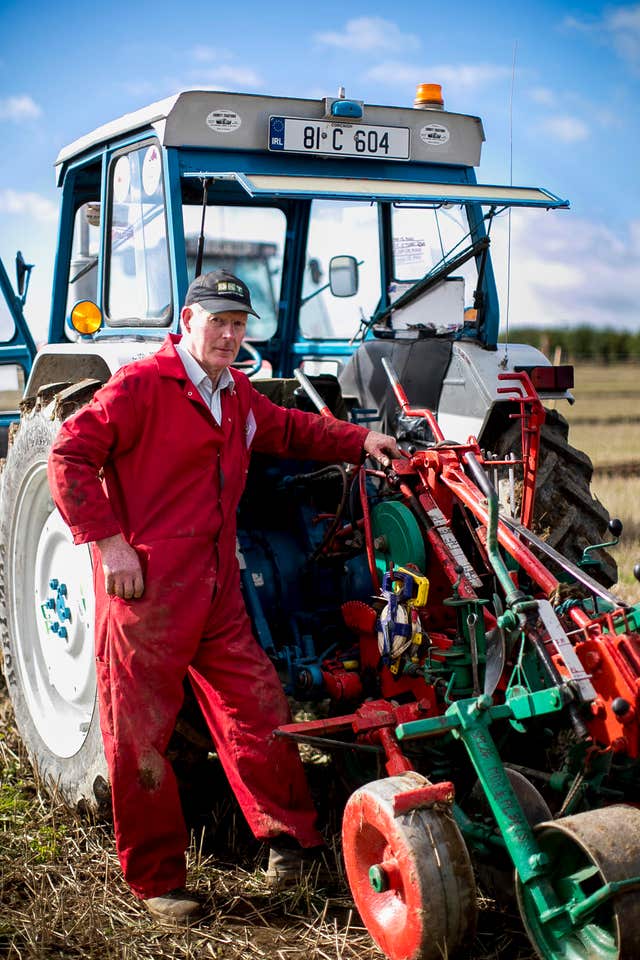 "There's a broad spectrum of exhibits…from machinery to livestock," Mrs McHugh said.
For the young people, she said, there were playground facilities and pony games, as well as hunt chases.
The fodder and financial issues facing farmers and concerns over Brexit dominated discussions.
Mr Higgins said farming as a way of life was important not only in Ireland, but in Europe and he said farming communities needed to be supported.
"If you want farming as a way of life to continue you have to pay for it," Mr Higgins said.
"You cannot leave it to the mercy of uncontrolled market forces in relation to income and you have to invest in sustainability of rural life."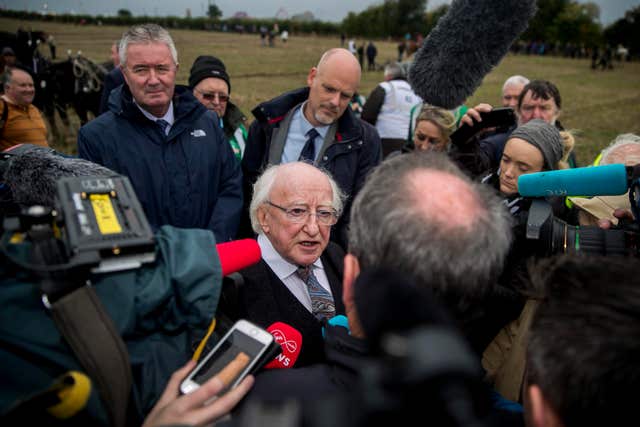 "Farming communities have come up to meet regulations that produce a high standard traceable product and you can't in fact have any retreat of that by our largest neighbour," he said.
Mr Higgins was one of four presidential election candidates pitching for votes at the event.
Pieta House founder and senator Joan Freeman, Dragons' Den businessmen Gavin Duffy and Sean Gallagher met crowds of well-wishers and posed for selfies with attendees.
Sinn Fein's candidate Liadh Ni Riada is expected to attend on Wednesday.
Young and old alike heeded warnings to dress appropriately for the poor weather that was forecasted.
After a sunny morning visitors had to run for cover from torrential downpours and high winds throughout the afternoon.
But people did not let it affect the enjoyment of their day.
Dairy and beef farmers Liz and Michael O'Connor and their children Aisling (nine) and Tomas (11) said they were at the championships because it was a great family day out.
They arrived with an autograph book in hand.
The children were delighted after managing to get a photograph with Mr Higgins and Irish singer Marty Mone.
Father-of-three Martin Feely from nearby Mucklagh was in attendance to see his daughter Vivienne perform for the president in her school's choir.
He said the family had been coming to the championships almost annually for 15 years.
Mr Feely said it was a landmark event in the annual calendar and that there was always a super atmosphere.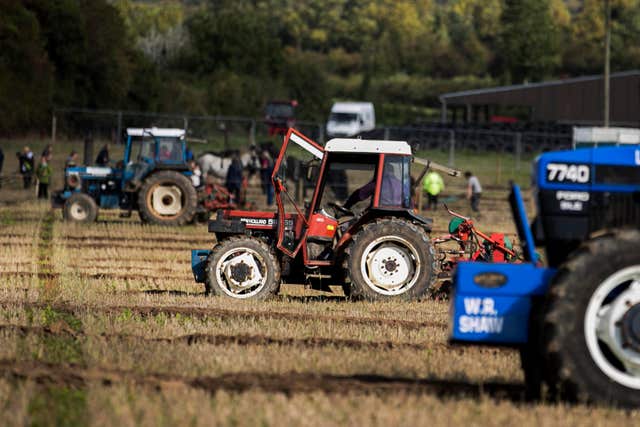 "There's so much machinery….and you might even get to see some ploughing but for me it's just a good atmosphere."
Joan Byrne and her husband Thomas, son TJ (13) and her friend Lily Doyle had all driven from Rathnew, Co Wicklow because they had promised their son they would return after an enjoyable visit two years ago.
"It's just a lovely day out," Ms Byrne said.
"We're just looking for a cup of tea first and foremost to get us started and then we want to see different things and then walk all around to see the ploughing, tractors and the machinery," she said.