The M6/M74 corridor between Manchester and Glasgow has been identified as the most valuable route for driverless lorries in the UK.
Firms would maximise profits by deploying autonomous HGVs on the 215-mile Anglo-Scottish route because of its long distance and relatively low congestion, according to transport information firm Inrix.
The M25 London orbital motorway was selected as the road where driverless lorry technology could lead to the biggest safety improvement, due to having a significantly higher levels of dangerous incidents per mile than any other route.
Coventry-Manchester on the M6 was in second place.
It predicted that the cost of the technology will decline as it is developed, and stated that it could provide "valuable savings" for UK firms due to the shortage of qualified HGV drivers and uncertainty over the movement of people after Brexit.
Platoons of self-driving lorries are expected to be trialled on England's motorways by the end of the year.
Up to three wirelessly connected HGVs will travel in convoy, with acceleration and braking controlled by the lead vehicle.
Lorries driving close together could see the front vehicle pushing air out of the way, making the other vehicles more efficient and lowering their emissions.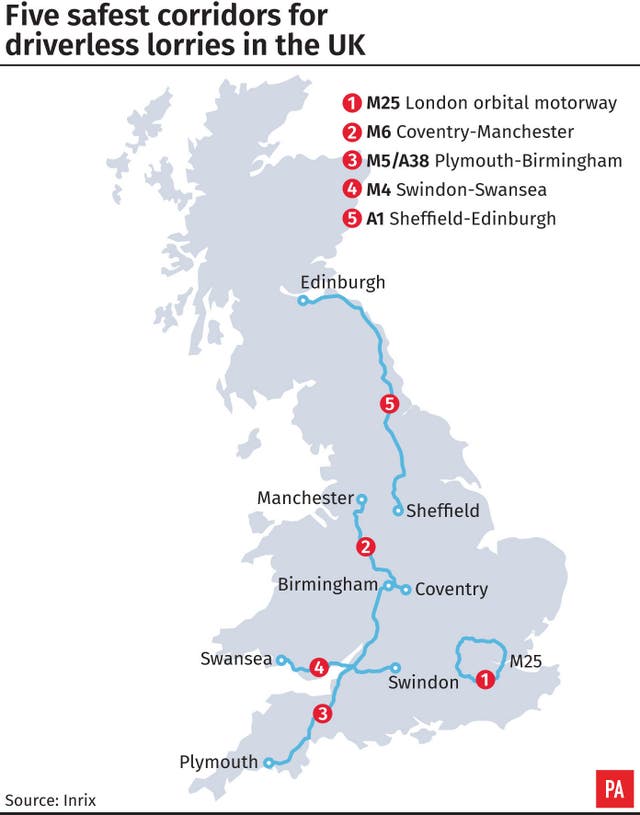 All lorries involved will have a driver ready to take control if required.
– Here are the five most commercially viable corridors for autonomous freighting in the UK, according to Inrix:
1. M6/M74 Manchester-Glasgow
2. A1 Sheffield-Edinburgh
3. M5/A38 Plymouth-Birmingham
4. A9 Edinburgh-Inverness
5. M4 Swindon-Swansea
– Here are the top five corridors for autonomous freighting in the UK based on safety, according to Inrix:
1. M25 London orbital motorway
2. M6 Coventry-Manchester
3. M5/A38 Plymouth-Birmingham
4. M4 Swindon-Swansea
5. A1 Sheffield-Edinburgh