Standardised tests in Scotland are not being used in a way which causes concern, an educational adviser has said.
Allison Skerrett, of the International Council of Education Advisers (ICEA), said members had feared the early tests would be used to label pupils, teachers and schools as high or low performing at an early age.
"If the standardised assessment is used to shame or blame, label or rank schools schools, that serves no benefit," she said.
"The data aren't being used in the ways the could cause the negative consequences that we were concerned about."
The Scottish Government is facing defeat in a vote on the use of national assessments for P1 pupils, which are opposed by all opposition parties.
Questioned on the vote, Ms Skerrett, a professor at the University of Texas, said: "My view is it's early to decide that something is not working."
She urged people to see the P1 tests as a part of larger improvement.
She said there remained differences in levels of support for the tests among members of the ICEA, set up by the Scottish Government to advise on education.
"Regardless of the some diversity of opinions in the council I can say we generally support the ways in which the assessments have been delivered and the purposes for which they are going to be used," she said.
"If they are used and delivered wisely and well through teacher judgement with the support of their school leaders in determining when they are administered that it could help additional insight to teachers into areas in which their students are strong, areas in which they are struggling, that could help guide their instruction and ultimately improve student learning."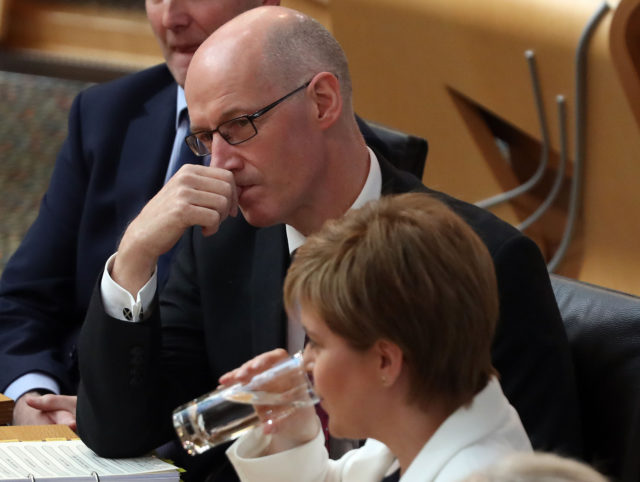 The vote is not binding on the government and Education Secretary John Swinney he would "consider" the outcome but insisted the P1 tests have an "important role to perform".
But opposition leaders say if the Scottish Government is defeated, Mr Swinney should respect the wishes of the Parliament and call a halt to the tests.
Conservatives submitted the motion, which questions if the assessments are "in line with the play-based learning philosophy" of early years education, after some teachers reported P1 pupils had been reduced to tears.