The Westminster attacker visited a fish and chip shop for a last supper the night before his murderous rampage.
CCTV footage inside the takeaway in Brighton captured Khalid Masood standing by a television with images of the Palace of Westminster on it.
The 52-year-old was in the Sussex seaside city on March 21 last year, the day before he drove a hired car across Westminster Bridge, mowing down pedestrians, and stabbed a police officer.
On March 9, he visited a Tesco store in Birmingham where he bought knives.
On March 16, he picked up the keys to a Hyundai Tuscan at Enterprise Rent a Car in Birmingham and drove off.
Two days later, he carried out reconnaissance, driving down Westminster Bridge.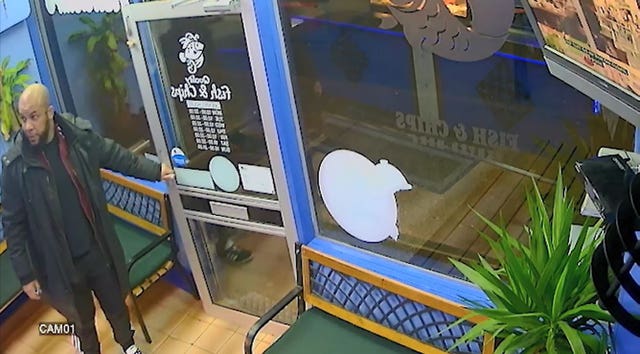 He was shown on tape laughing and smiling with reception staff.
After checking out, he travelled on to Brighton where he visited Sainsbury's before the fish and chip shop.
On the morning of the attack, he searched the internet for Prime Minister's Questions before carrying out a second recce in Westminster.
He returned later, using the car park at St Thomas' Hospital before moving into the bus lane on the bridge poised for attack at 2.38pm.
The court was told the attack came amid a failed attempt to target Westminster with knives and a foiled plot to murder Mrs May.