Two people have been killed as Storm Ali wreaked havoc across Ireland.
A woman aged in her 50s died when the caravan she was staying in was blown down a coastal bank in Co Galway, while a man in his 20s was hit by a falling tree while working in a forest park in Northern Ireland.
The woman, understood to be a Swiss tourist, had been staying overnight on her own at a park at Claddaghduff, near Clifden on the far west coast of Ireland.
The caravan was swept down on to a beach when the high winds rolled in from the Atlantic overnight.
A fellow worker, aged in his 40s, was injured when the tree fell on them on Wednesday afternoon.
The fatalities came on a day when the island was battered by Storm Ali.
At one stage, more than 250,000 homes and businesses were without power on both sides of the border as power lines toppled.
One gust in Northern Ireland was recorded at 91mph.
Numerous roads, including motorways, were closed by fallen trees and many flights were cancelled.
After the first fatality was confirmed, Irish President Michael D Higgins extended his sympathy to the family.
"As president of Ireland, may I express my deepest condolences to her family," he said.
Ireland's Minister for Employment Regina Doherty also offered her condolences.
Newry and Armagh MLA Megan Fearon said the community around Slieve Gullion had been left "shocked and saddened".
"I want to extend my condolences to the family and friends of this man at this difficult time," she said. "The thoughts of our entire community are with them.
"I also want to commend the emergency services for risking dangerous conditions to respond swiftly to this incident to help others."
The storm also led to the cancellation of the second day of a major agricultural show in Ireland.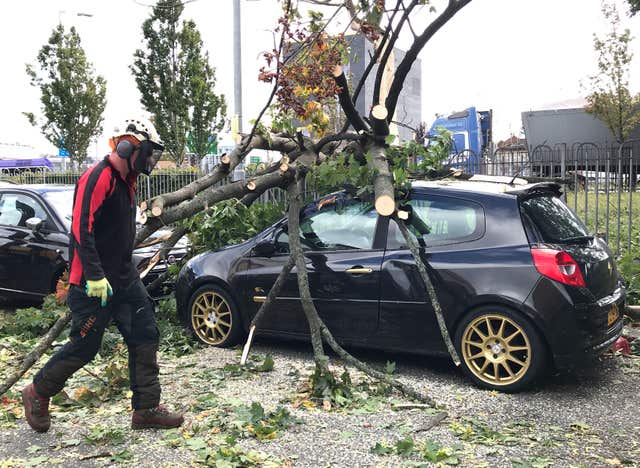 Irish forecaster Met Eireann said the strongest gusts as of 5pm were 147km/h (91.3mph) at Mace Head in County Galway, 124km/h (77mph) at Newport, Co Mayo, and 120km/h (74.5mph) at Claremorris, Co Mayo
In Northern Ireland, the Met Office said gusts of 91mph hit Killowen in County Down.
Ali is first on the list of named storms for 2018-19 announced by the Met Office and Met Eireann.