Three water companies have been warned by a watchdog to improve their customer service as almost half of providers in England and Wales reported an increase in calls to resolve problems last year.
The Consumer Council for Water (CCWater) has asked Bristol Water, Surrey-based SES Water and Southern Water to provide quarterly reports highlighting the action they are taking to reduce complaints following their "relatively poor" performance.
CCWater's annual report shows households made more than 2.1 million calls to resolve problems last year.
Southern Water has been asked to provide quarterly reports for a third successive year despite reducing written complaints by a fifth.
Bristol Water reported a 37% increase in "unwanted contacts" from customers to resolve problems and a 52% increase in written complaints, while SES Water reported a 21% rise in unwanted contacts.
Anglian Water is the industry's best performer after receiving the smallest number of calls to resolve problems and achieving a 26% fall in written complaints.
Bournemouth Water cut written complaints by 40%.
Nine out of 21 water companies in England and Wales reported an increase in calls from customers to resolve problems, while four companies reported an increase in written complaints.
Although the number of complaints to the industry as a whole fell by almost 17%, there was a 10% rise in the number relating to water supply as some companies struggled with the disruption caused by the sudden thaw following March's Beast from the East.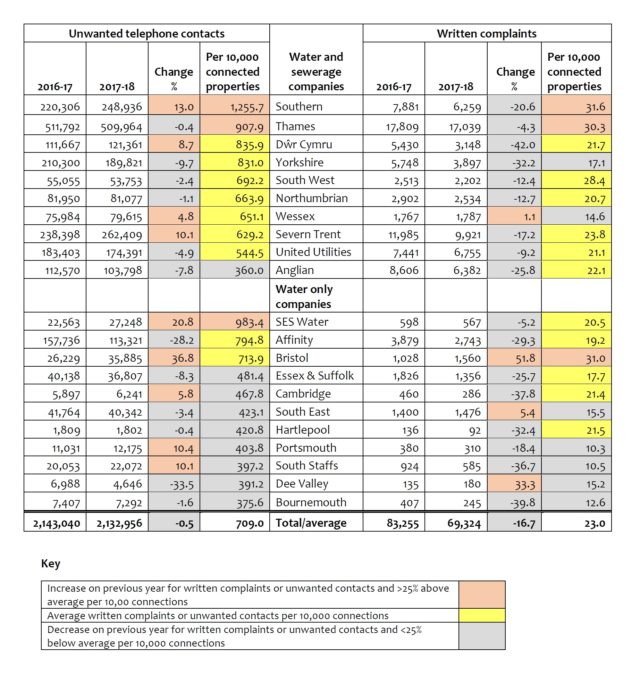 Disputes about billing and charges accounted for 53% of written complaints despite a 22% reduction compared with the year before, while supply issues made up 22% and sewerage accounted for 11.5%.
Fewer household customers turned to CCWater for help resolving a dispute in 2017/18, with the watchdog handling 6,815 complaints from household customers – down 13%.
CCWater chief executive Tony Smith said: "The frustration felt by thousands of customers after March's cold weather disruption to supplies should have reminded the industry that it cannot afford to be complacent.
"Some water companies still have a lot to learn when it comes to communicating effectively with their customers and ensuring that when something goes wrong they put it right quickly and with the minimum of fuss.
"The poor performers highlighted in our report can expect to come under considerable pressure from us to improve this year."
Michael Roberts, chief executive of trade association Water UK, said: "It's pleasing to see a fall in complaints this year despite the impact of the Beast from the East and the dry summer. The figures published today continue a downward trend in both metrics, with complaints and unwanted calls falling by almost 70% over the last decade.
"Despite customer satisfaction levels of around 90%, we know there is more to do. The industry has recently unveiled plans to reduce bills and invest £50 billion between 2020 and 2025 in order to improve services for consumers, including cutting leakage by 16%."
SES Water said: "Whilst we have seen our complaints reduce by around 5% from 2016-17 to 2017-18, we are currently amidst a two-year programme which is specifically aimed at improving the experience our customers will receive and are fundamentally changing a lot of what we do.
"We're also at a three-year low of 9.8 complaints per 1,000 properties and will continue to work hard to make sure that we get better and deliver well within our target limit going forward."
Southern Water's chief customer officer Simon Oates said: "We still have a long way to go to meet the standards our customers rightly expect but the changes we've introduced this year are driving down complaints, we are more proactively managing customers' accounts and resolving more problems for customers the first time they call us."
Ben Newby, Bristol Water's customer services director, said: "I am very disappointed that so many customers felt the need to contact us in the past year and that we have moved from being among the better performers in the industry.
"The past year has been one of the most difficult in the company's history, and we are pleased that CCWater has recognised that four major incidents, including the largest burst in the company's history, led to an increase in unwanted calls and written complaints.
"We will now review the full detail of the CCWater report and the recommendations it makes, and will provide quarterly reports addressing the issues highlighted."