Allegations of "systematic bullying" at NHS Tayside and the stress-related suicide of a trainee doctor there prompted the resignation of the health board's whistleblowing champion, MSPs were told.
Munwar Hussain was one of three non-executive directors of the troubled health board who quit in the wake of what was branded a "crisis of public confidence" there.
Labour health spokesman Anas Sarwar said Mr Hussain had been frustrated that concerns raised were "not being acted upon by managers".
Mr Hussain was contacted by a former trainee doctor who said they "left the NHS due to issues of systematic bullying and negative cliques", Mr Sarwar said.
The Labour MSP continued: "There were claims that people were raising issues but these were not being acted upon by managers, including allegations in the email that a previous trainee took their own life and the stress was unbearable for some.
"A serious set of allegations including that a trainee took their own life due to stress.
"He (Mr Hussasin) goes on to say that he asked for this to be raised at a board meeting but was told that he could not."
Mr Sarwar said Mr Hussain "eventually" raised concerns at a staff governance committee meeting but said he felt "this is viewed as an ongoing issue which is tolerated".
It emerged at the weekend that Mr Hussain had decided to resign from NHS Tayside – along with colleagues Stephen Hay and Doug Cross – but he did not make public the reason for his decision.
Health Secretary Jeane Freeman told MSPs she was aware "other board members are considering their future plans".
But she stressed she had "immediately followed up" the issues Mr Hussain raised with her.
These included concerns about "doctors in training" as well as senior management pay, the use of public funds, and CAMHS (Child and Adolescent Mental Health Services) issues, she said.
Mr Sarwar said he had seen the letter Mr Hussain sent to the Health Secretary, as he claimed: "There is a crisis of public confidence with NHS Tayside following a series of issues, including financial mismanagement leading to brokerage loans, raiding of the charity endowment fund, a chief executive and chair forced to resign."
Ms Freeman conceded there were "undoubtedly challenges for NHS Tayside", adding she "would not underestimate those in any respect".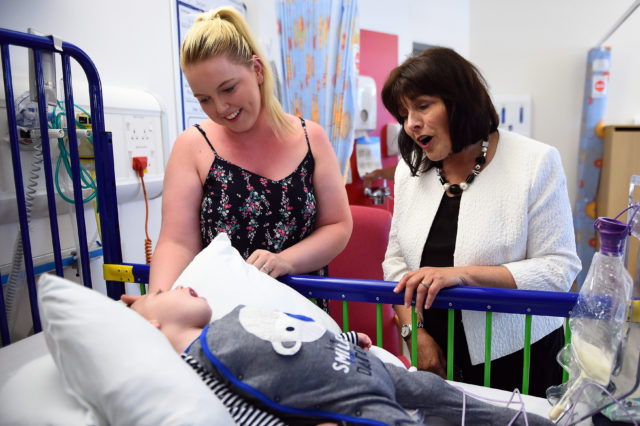 And the Health Secretary said the board at NHS Tayside – which had a new chief executive and chairman appointed in April – were "responding appropriately in my opinion to the whistleblowing issues that have been raised with them".
Ms Freeman pledged: "I will continue to monitor how the board deals with those and what the end result will be."
Liberal Democrat health spokesman Alex Cole-Hamilton later pressed the Health Secretary on the "revelations" from Mr Sarwar.
The Lib Dem MSP asked: "On something this serious, on a failure of whistle-blowing systems this serious, can we really expect the board to mark it's own homework on this?"
He argued it was "in our national interest" for the Health Secretary to "instruct a full, independent public inquiry" into whistle-blowing in NHS Tayside.
But Ms Freeman told him: "I do not believe that is necessary."
She added: "We have a set of very serious claims by a member of NHS Tayside's board which was communicated to me via email on September 3. That member then indicated his intention to resign following his period of ill health absence on September 11.
"The board has acted on these concerns. I have seen the actions they have taken prior to Mr Hussain being in touch with me and I have made a commitment I will keep a very close eye on how the matters progress."