EU "gangsters and bullyboys" will never be satisfied, Nigel Farage has said – urging Theresa May to pursue a "simple free trade deal".
His Leave Means Leave battle bus took a tour of central London to drive home his message that only a hard Brexit will satisfy his followers.
Mr Farage was gleeful about the Prime Minister's failure to win EU backing for her softer Chequers deal in Salzburg, and said nothing would ever be good enough for the "bully boys in Brussels".
Speaking just after the summit finished, he said: "I'm afraid Mrs May is in  a real pickle.
"It doesn't matter what concessions you make to these gangsters, they will always come back for more.
"Maybe this is a big opportunity to chuck Chequers and go back to them with a very simple trade deal, and say 'you have got two months to sign up to this'."
He added he believed pressure from German industry meant "it's something they would bite our arm off for".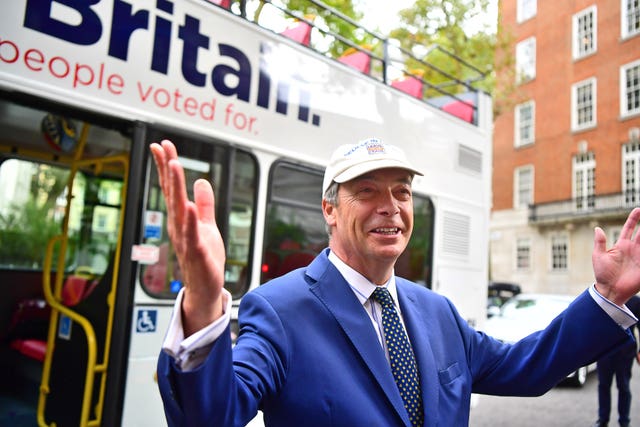 "It's very problematic today, right now," he said. "Very problematic – but, do you know what, we manage.
"If we didn't have a free trade deal, there would be one more factor in what's already a very complicated situation.
"If we have a proper free trade deal, there will not be a problem at all."
Holding a slogan baseball cap similar in style to Donald Trump's Make America Great Again hat, Mr Farage bemoaned a "constant diet of negativity" from  journalists and politicians.
He claimed he was taking the battle bus on a UK tour to remind politicians "the people have made their decision".
"We're reinvigorating the referendum campaign," he said. "We don't need to persuade anyone.
"All we need to do is say to our politicians 'keep your promises'."
Mr Farage denied he was running scared of the possibility of a second vote on Brexit, saying the UK had already voted once in the 2016 referendum and claiming victory in last year's general election, where the Conservatives lost their majority.
"There is no growing appetite for a second referendum or for more delays," he said.
"We voted to leave in a referendum. We confirmed it in a general election.
"How many votes do you want? It's ludicrous."