A clubber accused of attempted murder after driving his car into a crowded dance floor said he only wanted to make a "nuisance" of himself after being "humiliated" when thrown out by bouncers.
Mohammed Abdul drank at least 15 glasses of vodka, tequila shots and more than "five to 10 spliffs" of cannabis before he got behind the wheel of his Suzuki Vitara, Maidstone Crown Court heard.
The 21-year-old, dressed in a blue shirt and dark tie, denies attempted murder after the incident at Blake's nightclub in Gravesend, Kent, on March 17, which left eight people injured.
But Abdul said he was "upset and humiliated", and only intended to "make a nuisance of himself to get his own back on the door staff".
He admitted saying he was "going to shut this place down", but that he never threatened to kill anyone.
Earlier in the trial, prosecutors told the court Abdul's actions were a "determined and indiscriminate effort to cause carnage and death to anyone in his way".
But in his closing speech, Danny Moore, defending, said: "He has accepted responsibility for this terrible piece of driving."
He branded elements of the prosecution case "over the top" and "over reaching", adding: "[Abdul] has not sought to shy away from criminal responsibility for what happened.
"But what he does shy away from is the assertion of the prosecution that he had murder on his mind."
Simon Taylor, prosecuting, described it as "bordering on miraculous that no one was killed", and told the jury it did not mean Abdul did not "intend to kill".
"At no point" did Abdul take "evasive action" to avoid hitting anyone or stop, he added.
Abdul had been in the Queen Street venue for around three hours until he was kicked out at around 11.40pm for being too drunk, jurors heard.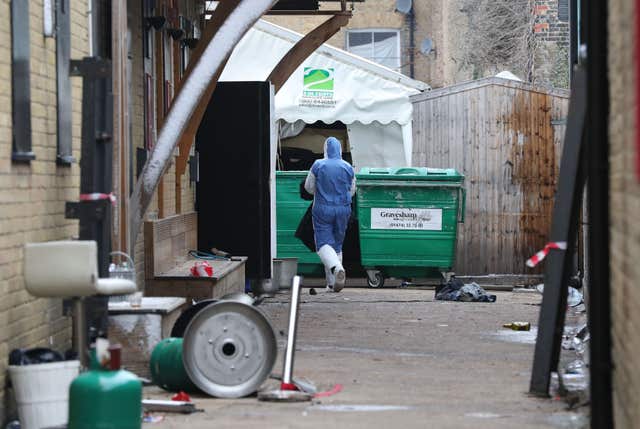 The alleyway houses a marquee attached to the club with a dance floor and DJ booth, and was filled with clubbers there to see grime rapper Giggs.
Despite the efforts of bouncers, Abdul drove some way down the alleyway, stopped for nine seconds to make up his mind, then accelerated into the marquee, Mr Taylor said.
Jurors saw CCTV footage of a vehicle crashing through the marquee, knocking several people to the floor, before attempting to reverse away – but being blocked by clubbers.
Abdul, of Deptford, south-east London, accepts he was the driver of the vehicle and has admitted causing serious injury by dangerous driving.
He denies two counts of attempting to murder persons in the vicinity of the club and an alternative charge of attempting to cause grievous bodily harm with intent.
He also denies a further two counts of causing grievous bodily harm with intent towards cameraman Pierre Jermaine Joseph and clubber Katie Wells, who suffered a broken shin and fractured pelvis respectively.
The jury has now retired to consider its verdict.