A male model has been jailed for at least 25 years for murdering his more successful fashion rival in a row about a girlfriend.
Harry Uzoka, 25, who was signed with London's Premier Model Management agency and counted catwalk star Jourdan Dunn among his friends, was stabbed in the heart after he went to settle the dispute.
He was armed with a dumbbell bar, while George Koh, 24, brought two knives, arriving with machete-wielding friend Merse Dikanda, 24, and personal trainer Jonathan Okigbo, 24.
CCTV footage captured the confrontation in broad daylight, in an area where children were playing, before Mr Uzoka collapsed and died in the street outside his Shepherd's Bush home in west London after Koh plunged a knife deep into his heart.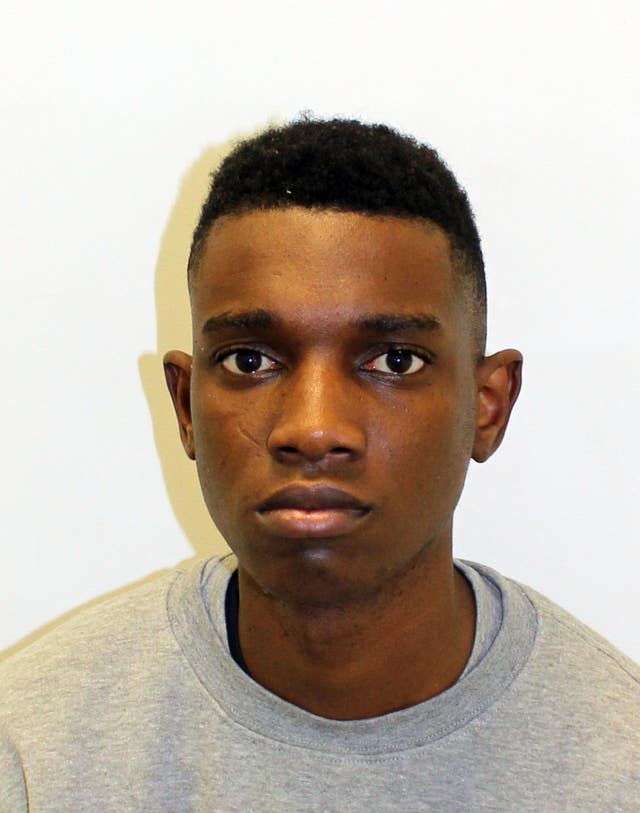 The relationship deteriorated after Koh bragged to Paris-based model Annecetta Lafon that he had sex with Mr Uzoka's girlfriend, Ruby Campbell, who is also a model.
Ms Campbell did not give evidence at the trial but in a later Instagram post, including a picture of her and Mr Uzoka, insisted she had never met Koh and told of receiving "multiple death threats" because of the case.
Koh, from Camden, was handed a life sentence on Friday after he was found guilty of murder and pleaded guilty to possessing a knife. He was told by Judge Wendy Joseph QC that he must serve at least 25 years.
Dikanda, also from Camden, was sentenced to life with a minimum of 22 years after he was found guilty of murder, and possessing knives. Okigbo, of no fixed address, was jailed for 14 years after he was acquitted of murder but found guilty of manslaughter.
"The loss of any life is tragic, the more so when a victim is so young, able and generous," the judge said.
"Harry Uzoka was a young man of exceptional talent, who overcame his own difficulties to make a great success of his young life and to be a remarkable role model for others. He was 25 years old when you killed him.
"Behind that bald statement are these facts: Harry Uzoka had, with great talent, forged a successful international career as a male model. He was one of the first black British men to do so.
"He was generous with his time and enjoyed helping others like him to do the same. Amongst those was George Koh.
"The relationship broke down because of George Koh's behaviour, which swung between excessive admiration and spite.
"This manifested itself in several ways. Sometimes Mr Koh would claim to look very like Harry and tried to imitate his style of dress.
"At other times he contacted Harry's Instagram friends, falsely speaking ill of them."
The court heard that Koh, who was said to have turned his life around after he was jailed in 2012 for drug dealing, has written a letter to Mr Uzoka's family – who were sitting in court for the whole trial – expressing his "profound remorse".
Mr Uzoka's mother, Josephine Jackson, paid tribute to her "beautiful boy" who had helped to pay her mortgage and treated her to holidays abroad.
"Your short life enriched the lives of so many. You inspired so many people and touched them with your love. You will never be forgotten, my wonderful boy," she said in a victim impact statement.
"Until Harry's life was taken away from us we were a normal happy family. Harry was progressing well with his life and career.
"He was an inspiration to me and his brother, Edmond. He brought so much positivity and hope to us.
"His departure has left a gaping hole, a void and a crack in the family. We are all still finding it very difficult to cope with."
Before he was murdered Mr Uzoka had been planning a trip to Amsterdam for Ms Campbell's birthday and was said to be in a positive mood, despite hearing about the claims from Ms Lafon.
Prosecutor Richard Horwell QC told the trial: "Koh claimed that he knew Uzoka well and then said that he had sex with Uzoka's girlfriend and that was the reason why they no longer talked."
Mr Uzoka's model friend Chuck Achike told jurors: "He said George said 'He f***** my girl', which I thought was petty and young. He knew it wasn't true and I knew it wasn't true."
Mr Uzoka, who was known as H, replied: "Come Shepherd's Bush."
He arrived for the confrontation on January 11 after recruiting flatmate Adrian Harper, and they were both armed with dumbbell bars.
CCTV footage captured him being chased by Koh, Dikanda and Okigbo, who were armed with at least three blades, including a machete.
Mr Harper got away but Mr Uzoka collapsed and died after being stabbed in the heart.