An Irish Wolfhound emerged as one of the stars of the show during the first military presentation of colours to take place in Belfast in living memory.
Brian Boru X proudly led the men of the 1st and 2nd Battalions of the Royal Irish Regiment on parade at Titanic Slipways on Saturday as they received their colours from the Duke of York.
The two-year-old hound was then in hot demand by scores of fans eager to meet him and get their photograph taken with him.
His handler, Wolfhound Major Robert Moore (30) from Belfast said the regiment's mascot is always star of the show wherever they go.
Speaking to Press Association during rehearsals ahead of the event, Major Moore said: "He's the star of the show, once everyone sees the mascot, everyone says, oh, there's the mascot, let's go.
"Everyone wants their picture taken with him, everyone wants to speak to him, everyone wants to pet him, and he's just the same, he wants to introduce himself to everyone else. He's more than happy to give a lick to a couple of people.
Just like the men must undertake hours of polishing to ensure their dress uniform is spic and span, Brian Boru X also requires significant preparation.
As part of that he enjoyed a bath the night before the event.
Major Moore has had Brian Boru since he was just six months old, and knows him by his pet name Conri, which means Wolf King in Irish.
"I have had him in schools, doing stuff with kids, so he is used to it now (being around a lot of people), it helped having him so young," he said.
"The job came up and I fancied a change.
"So I did a couple of courses that you have to do to work with military working dogs, took ownership of Conri here, then it was all about getting him ready for parade and engagements we do, PR work, recruitment events
Brian Boru X joined the regiment in May 2016, and was warmly welcomed as mascot after two years without one.
He was born on January 11, 2016 at Nutstown Irish Wolfhounds, north of Dublin.
His first appearance with the regiment was at Old Soldiers' Day on June 4, 2016, the second anniversary of the death of his predecessor, Brian Boru IX (Finn).
When on parade, Brian Boru has an official uniform. This consists of a piper green coat trimmed with silver lace and displaying the Regimental badge on either flank.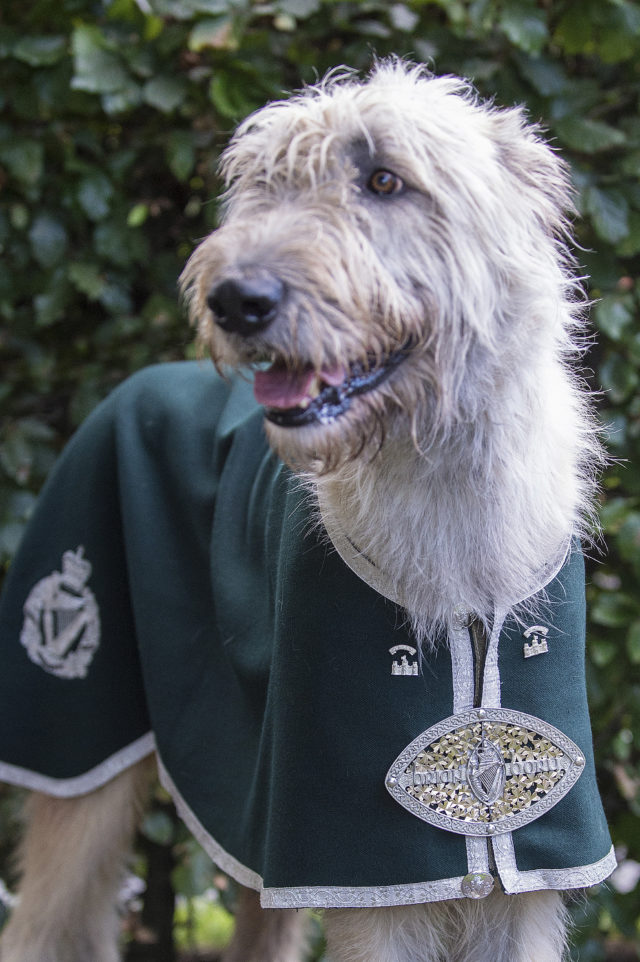 A sterling silver breast plate brooch is worn at the neck of the coat. This brooch was designed and made in 2016 to Regimental specification by Graham Harron, a silversmith in Killyleagh, Co Down.
To complete the ceremonial dress, the dog has a choice of dark brown leather collars, one displaying the Regimental cap badge while the other has the name engraved on a silver plate.