Arlene Foster has said she is accountable for her former special adviser, but not responsible for him.
The appointment and actions of DUP special advisers (spads) came under scrutiny on Tuesday at an inquiry into a botched green energy scheme.
The former first minister for Northern Ireland made the distinction when asked about her former spad Dr Andrew Crawford.
Mrs Foster claimed while giving evidence to the RHI inquiry that Dr Crawford never raised with her allegations that the Renewable Heat Incentive scheme was being abused, or the potential for a spike in applications.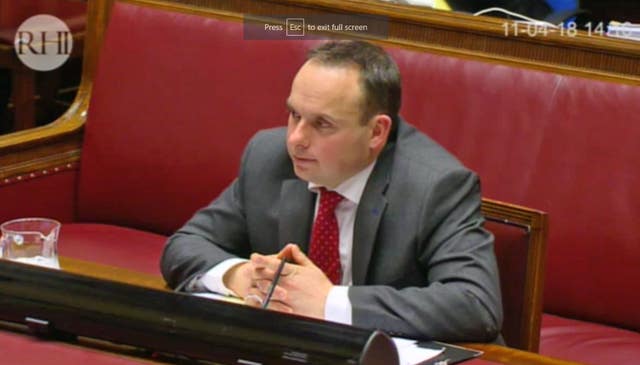 The inquiry also heard evidence Dr Crawford sent confidential government documents to family members who were RHI claimants.
Counsel to the inquiry David Scoffield asked Mrs Foster that if the panel finds Dr Crawford breached standards, to what degree is she responsible for his actions as his former minister.
Mrs Foster responded by telling the inquiry that she was accountable for Mr Crawford's behaviour, as she was for other officials in the departments she had served in.
But she insisted that she is accountable, but not responsible.
"If he had committed a criminal offence as a spad, I don't see how the panel would be asking me to be responsible for that," she said.
"I'm accountable but I'm not responsible."
Mrs Foster also defended her party's spads after the inquiry previously heard evidence from former enterprise minister Jonathan Bell about his difficult working relationship with them.
Mr Bell claimed the DUP "camouflaged" how they were appointed.
Mrs Foster said the DUP is no different to other parties in how it appoints its spads.
"All of the special advisers that the DUP appointed were people who had third-level education, and who had an ability to work within the system," she told the inquiry.
"I am not sure that that can be said about every other special adviser."