Labour should not rule out allowing a second Brexit referendum to include the option of staying in the EU, Sir Keir Starmer has signalled amid signs of division at the top of the party.
Ahead of a vote at the party conference on Tuesday, the shadow Brexit secretary said that a motion on the highly divisive question that has dominated the event in Liverpool "doesn't rule out Remain".
His comments to the Independent came after shadow chancellor John McDonnell signalled that he would want any second Brexit referendum to be limited to choosing how to leave the EU.
Campaigners for a so-called People's Vote – who staged a march in Liverpool on the conference's opening day – have welcomed the motion, which states that if Labour cannot force an early general election it will "support all options remaining on the table, including campaigning for a public vote".
But they voiced concern after Mr McDonnell indicated that the leadership envisage any vote would only be on the terms of a Brexit deal.
He later appeared to row back, telling a fringe event that Sir Keir was right to say "we are keeping all the options on the table".
Mr Starmer, who will give a speech at conference on Tuesday outlining opposition to Theresa May's Brexit plan, struck a wider tone, telling the Independent: "The idea is to retain flexibility, the motion doesn't rule out Remain, it doesn't tie us to any position on what should be in any future vote."
Mr Starmer will use his speech to say that Labour is preparing to vote down Mrs May's EU withdrawal deal in Parliament.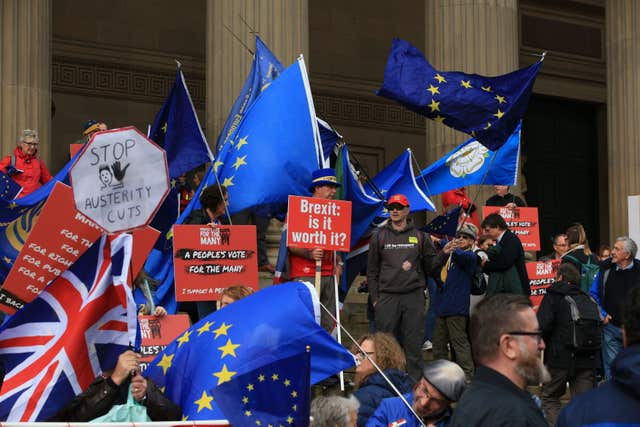 Addressing Labour's conference in Liverpool, Sir Keir will warn that Tory "division, chaos and failure" over Brexit is putting the country's future prosperity at risk.
"The party that once promised to fix the roof while the sun was shining now seems intent on burning the whole house down," he will say.
With a Commons vote expected in the next few months, Sir Keir is set to say that Labour will oppose any deal which fails the party's six tests, including delivering the "exact same benefits" of single market and customs union membership.
While stopping short of an absolute commitment to vote down Mrs May's plans, he will tell delegates that it is highly unlikely any deal based on her Chequers blueprint could meet Labour's tests.
And he will pledge not to back a "blind Brexit", under which MPs would be asked to approve the £40 billion withdrawal agreement without being given a clear outline of future relations with Europe.
Sir Keir is expected to say: "Just when we need a strong government, what do we see from the Tories? Division, chaos and failure.
"No credible plan for Brexit. No solution to prevent a hard border in Ireland. And no majority in Parliament for the Chequers proposals.
"A Tory civil war that has gone on for years now threatens our future prosperity."
And he will issue a message to Mrs May: "If your party wants to tear itself apart, that's fine, but you're not taking our country with you."
Setting out Labour's approach to the upcoming Commons vote, Sir Keir said: "If Theresa May brings back a deal that fails our tests – and that looks increasingly likely – Labour will vote against it. No ifs, no buts.
"And if the Prime Minister thinks we'll wave through a vague deal asking us to jump blindfolded into the unknown, she can think again.
"You can't meet Labour's tests by failing to provide answers. We will vote down a blind Brexit.
"Let me be clear: this isn't about frustrating the process. It's about stopping a destructive Tory Brexit. It's about fighting for our values. And about fighting for our country."
Sir Keir released an analysis of the Brexit blueprint agreed by the Cabinet at Mrs May's country residence, which he said showed it failed to pass Labour's six tests.
The tests demand: a "strong and collaborative" future relationship with the EU; the "exact same benefits" as single market and customs union membership; fair management of migration; defence of rights and protections; protection for national security; and delivering for all regions and nations of the UK.
Brexit minister Robin Walker accused Labour of trying to take the UK "back to square one" and of wanting to re-run the referendum, saying: "Labour promised to respect the referendum result, but are just playing political games and trying to frustrate it."