David Hockney has unveiled a stained glass window tribute to the Queen at Westminster Abbey saying, "I hope she'll like it".
Spanning over eight metres high, the new work is the 81-year-old's first in stained glass.
Designed on his iPad and set in Hockney's Yorkshire birthplace, it reflects the Queen's love for, and connection with, the countryside.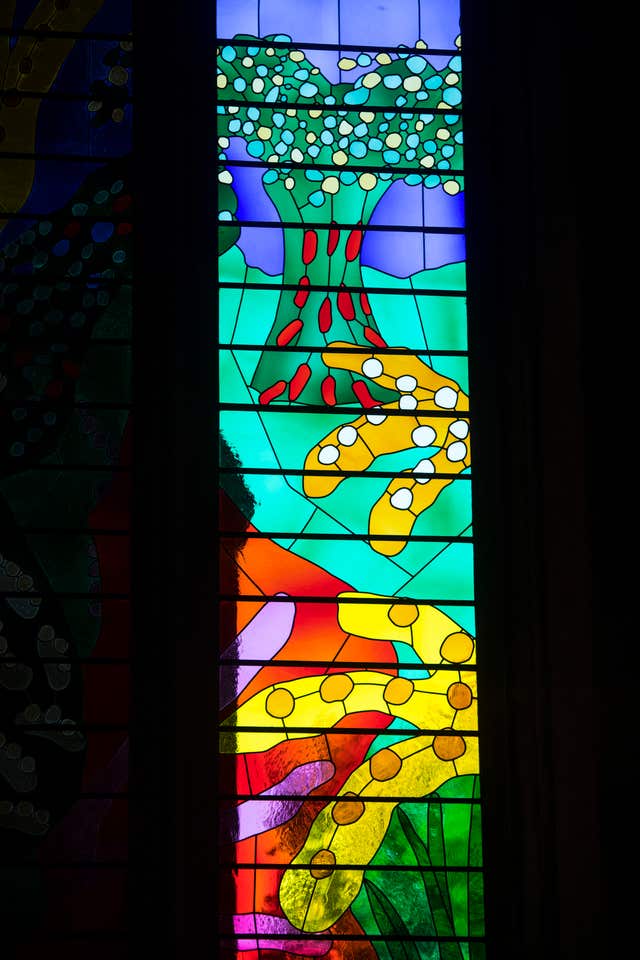 The brightly-coloured abstract window of yellow, red, blue, pink, orange and greens, features hawthorn blossom and stands out in its historic setting.
Hockney told the Press Association that the iPad was "a natural thing to use" because it is "back-lit like a window".
The much-loved artist, who recently broke his own auction record with a £21.1 million painting, said that designing his first stained glass window "was a challenge" adding: "I've learnt something about glass."
He said of wanting to depict the countryside: "Landscape is nature. The previous window put up in here was also nature, lilies.
"I chose the hawthorn which is (for) four days (like) the moment when champagne looks as though it's been poured over all the bushes.
"It's a rather celebratory thing. It's the height of the spring and summer".
The artist said of the window's Westminster Abbey home: "I know this is a historic place and I know it's going to last."
Hockney once said that he turned down the chance to paint the Queen because he was "very busy painting England actually, her country".
Asked whether he had any response to the window from the monarch, who has not yet seen the finished result, he said: "Not yet, but I hope she'll like it. I'm sure she will."
Hockney's new work, The Queen's Window, stands just next to Parliament.
But he said of British politics: "I don't really know that much about it actually, I don't care that much…. There are always crisis. There's always this, there's always that. I'm sure it's going on now. But I'm staying out of it."
Hockney, famous for both his Yorkshire landscapes and paintings of Californian life, was inspired by Matisse, Chagall "and a few other people" for the new work.
Westminster Abbey said that the result "reflects the Queen as a countrywoman and her widespread delight in, and yearning for, the countryside".
The Dean of Westminster, the Very Reverend Dr John Hall told the Press Association: "I'm excited by it.
"I think there's absolutely no harm at all in having something which is particular and vibrant and different.
"Some of the glass here is not very good. Some of it is not too bad, but this has a wonderful, beautiful, easily accessible vibrant colour. I think people will enjoy it."
He added: "It's going to be here until the end. I mean, who knows what's going to happen in the future! The Abbey's only been here just over 1,000 years. It'll be thousands more."
He said of the Queen: "She's obviously seen a sketch but she'll see it in person when she's here in November.
"You wouldn't necessarily get very much reaction out of the Queen. She absorbs things. But she's also I think quite trusting."
Barley Studio, a stained glass studio based in York, created the window using traditional techniques.
Helen Whittaker, from the studio, said of working with Hockney: "He's incredibly exciting because he takes risks. A lot of people have an idea of what a stained glass window looks like – religious wallpaper that doesn't engage."
She said Hockney had chosen traditional materials but the "image is very much the 21st Century. It draws you to it, these windows are no longer just in the background".