Five things we learnt at Labour's annual conference in Liverpool on Wednesday September 26:
– Jeremy Corbyn appears more at ease with the pressures of a keynote conference speech.
In his fourth year as party leader, Mr Corbyn looked relaxed as he opened his speech with thanks to those involved with the conference and a tribute in Spanish to his wife Laura.
As an experienced campaigner he is no stranger to delivering speeches, but there is a different dynamic in the conference environment and he appeared more accomplished in his delivery – building on developments in recent years.
After a bruising summer which saw the party dogged by anti-Semitism scandals and criticism over Mr Corbyn's handling of the row, the Labour leader attempted to draw a line under the issue.
He insisted his party is an ally of the Jewish community, promised to "eradicate anti-Semitism, both from our party and wider society" and guaranteed support from a Labour-led government.
– Foreign policy is dear to the hearts of party activists.
There were standing ovations, cheers and applause when Mr Corbyn raised the Yemen civil war, urged the government of Burma to end its "horrific ethnic cleansing" and pledged to recognise a Palestinian state as soon as a Labour government takes office.
While such international issues are rarely at the forefront of the wider public's minds, the commitments were appreciated by the Labour delegates listening.
– Labour is pushing its claims to be the UK mainstream in a politically polarised world.
Mr Corbyn drew upon the words of former Conservative minister Lord O'Neill of Gatley to boost his party's cause, adding: "I've never sought to capture the mood of a Tory minister before, but let me say to his lordship: you're welcome, come and join us in the new political mainstream."
His remark was lighthearted, but the message was clear as he bids to win support from floating voters.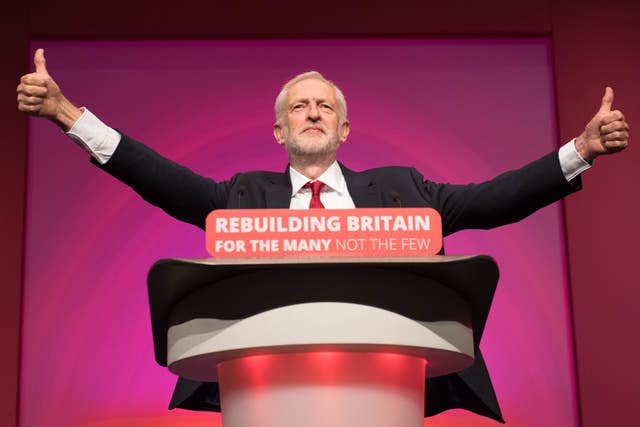 He urged unity among the party although jokingly highlighted the football tensions around the shadow cabinet table.
The Arsenal supporter noted his party is a broad church and he leads in the spirit of expanding this, adding: "After all, I appointed John McDonnell despite him being a Liverpool fan, and even Andrew Gwynne, who supports Manchester City."