Rape victims face an average wait of four months for prosecutors to charge a suspect in certain parts of England, compared with just 38 days elsewhere, new figures show.
Campaigners said the data, released as part of the Crown Prosecution Service's annual Violence Against Women and Girls report, exposed a "postcode lottery" where victims' route to justice was heavily influenced by where they live.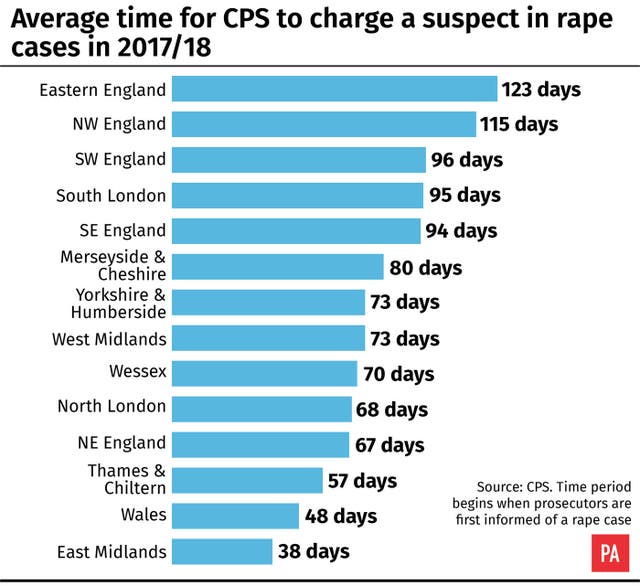 The figure for the East Midlands – the lowest in England and Wales for 2017-18 – is up from 30 days for the region the previous year, and 23 days the year before that.
But in Eastern England, the average number of days taken to charge a suspect has increased annually from 81 in 2015-16, to 108, and to 123 days in 2017-18.
The average time to charge in the North West of England stands at 115 days – down from 128 last year and 95 in 2016.
In Wales, the figure has increased from 53 days in 2015-16, to 67 the following year, and to 78 in 2017-18.
Sarah Green, co-director of the End Violence Against Women coalition, said "The postcode lottery those reporting rape are subjected to in terms of waiting times for a charge is also appalling and needs investigating. Those crucial early days can make a huge difference in terms of rape survivors' ability to see a legal process through."
The CPS said there were many reasons why the time it takes to charge a suspect with rape differs from other offences.
This includes involvement from the CPS at a much earlier stage in order to build a secure case against a defendant.
The back-and-forth nature of the case is partly down to the complex and resource-intensive nature of evidence gathering, including forensic material.