A palaeontologist whose obsession with one of the world's most famous dinosaurs started as a seven-year-old saw his childhood dreams become reality when Dippy the Diplodocus set foot in his Belfast museum.
Dr Mike Simms, who still has a drawing he made after visiting Dippy in the Natural History Museum in London 50 years ago, was full of pride on Thursday as the huge skeleton cast was unveiled in the Ulster Museum.
"It's kind of going full circle," said Dr Simms, who is senior curator of natural sciences at National Museums Northern Ireland.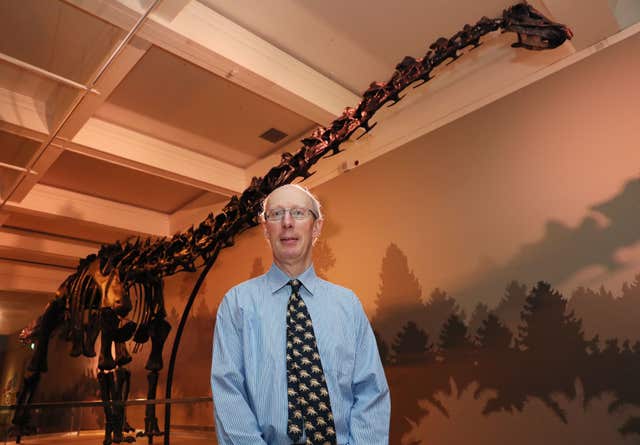 "I've been at this one for 22 years and amazingly Dippy has followed me here – it's almost unreal.
"My father took me to the Natural History Museum in April 1968.
"It wasn't until three weeks later that I drew this drawing of Dippy at school.
"So I remembered all of that – that's how obsessed I was with dinosaurs and fossils."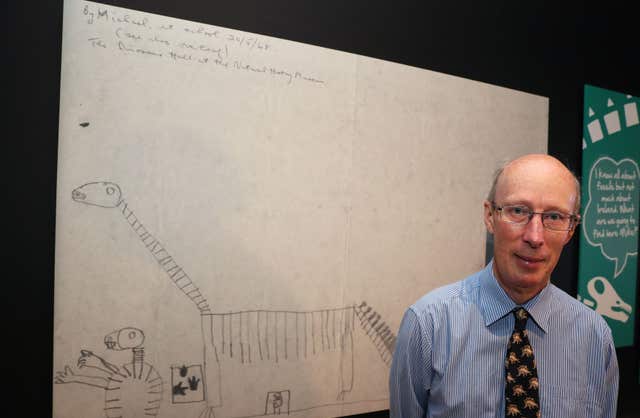 Lorraine Cornish, head of conservation at the Natural History Museum, oversaw the painstaking installation of Dippy's 292 bones in Belfast.
"When he was installed in 1905 he was the biggest dinosaur skeleton installed anywhere in the world, so there was a huge amount of interest and from then on millions and millions of people have come to see Dippy in London.
"As children they come and when they grow up they bring their children, their grandchildren.
"Dippy has a really firm place in people's affections and they feel very strongly about him and so we're really delighted to bring him out of London and to have him tour round the UK."
On his last stop – in Birmingham – 255,000 people paid a visit to see Dippy. Thousands of free tickets have already been booked to see him at Ulster Museum, his one stop on the island of Ireland.
He has been placed within an exhibition exploring the natural world and biodiversity across the island, with visitors able to discover why so few dinosaur fossils have ever been found in Ireland.
"We're thrilled to be the only venue in Ireland to be hosting the iconic dinosaur and we hope that after seeing Dippy visitors are inspired to explore, discover and protect the nature on their doorstep.
"Dippy starts a vital conversation about the importance of understanding and caring for our natural world and it's great to make the connection with our own unique and extensive natural science collections, some of which will sit alongside him."
Dippy on Tour: A Natural History Adventure has been is being delivered by the Natural History Museum in partnership with the Garfield Weston Foundation and supported by Dell EMC and Williams & Hill.
The exhibition will be at the Ulster Museum until January 6, 2019. Tickets to the Dippy on Tour exhibition are free. For information visit www.nmni.com/dippy.