Sir Richard Branson has reached the summit of Mont Blanc as he completed the final stage of a 2,000km trek across Western Europe.
The 68-year-old posed with the core team of 13 people, including his son Sam and nephew Noah Devereux, on top of the mountain on Saturday.
The billionaire businessman told the Press Association the Virgin Strive Challenge had made him feel like he had the "body of a 25-year-old again" after cycling, hiking, climbing and even taking sea kayaks from Sardinia in Italy.
The challenge has raised almost £4 million for the charity Big Change since 2014, which aims to help disadvantaged young people in the UK.
Speaking ahead of his trip to the top of the mountain, Sir Richard said: "The idea was to test ourselves to the limit… and see what we are capable of – and actually test ourselves beyond the limit.
"Every day has been more extreme than anyone would ever go through in their lives.
"What's fascinating for me, other than being twice the age of everybody else, is how your body just gets stronger and stronger and stronger."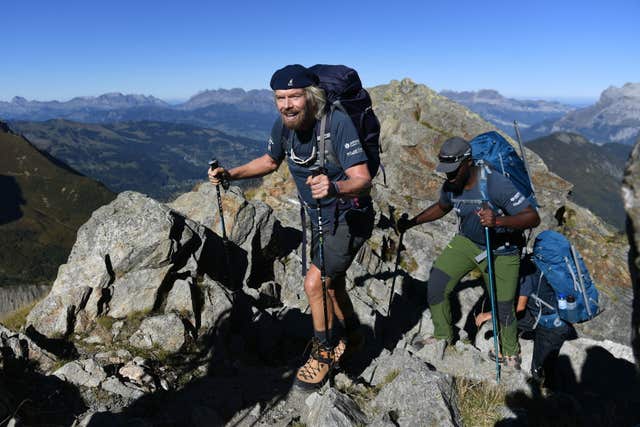 He said: "By the end of it, I feel like I've got the body of a 25-year-old again – lugging these massively heavy things up mountains or climbing mountains on bikes.
"I think it does show if you do use your body and as long as you don't have a niggly injury – it doesn't matter what age you are, you can be capable of doing anything somebody half your age can do.
"It will be a spectacular end to a spectacular trip."
Speaking of his motivation behind completing the challenge, Sir Richard's son Sam Branson said: "Obviously the summit is the pinnacle point to the end of the journey, but I think for us Strive is more about the experience for us of a huge challenge with amazing people for a common goal.
"We've all had many summits along the way metaphorically, but there will be a massive amount of elation if we all get there.
Speaking of Sir Richard's journey from Sardinia to Mont Blanc, the 68-year-old's nephew Noah Devereux said: "I'm a particularly proud nephew here. He has been absolutely incredible this year, especially on the bike.
"He was getting in maybe three hours before the guys that were coming in at the back.
"This year, four people literally came up to me and said 'does Richard have an electric motor on his bike?' and I said 'I actually better just check that'."