The father of a teenager who died after suffering an allergic reaction to a Pret A Manger sandwich has said she would be supporting her parents in their campaign to change the law.
The family are calling for a law change after Natasha Ednan-Laperouse, 15, from Fulham, collapsed on a British Airways flight from London to Nice in July 2016.
She had been on her way to a four-day break in France with her father and best friend when she bought an artichoke, olive and tapenade baguette as they passed through Heathrow Airport's Terminal 5.
"And that's what we're trying to do today as a family. We're really trying to save other people, other families in the United Kingdom from, I think, any such thing happening to them."
He added: "We are campaigning now, taking our voice if you like to raise awareness about this issue, which is actually an extraordinarily poignant one for families, and there are many in the United Kingdom that have allergic children, and we feel that what we're saying will resonate deeply with them."
Asked what he thinks Natasha would make of their campaign, he said: "Well Natasha was a very energetic girl, full of energy and always championed the underdog… She's renowned for that.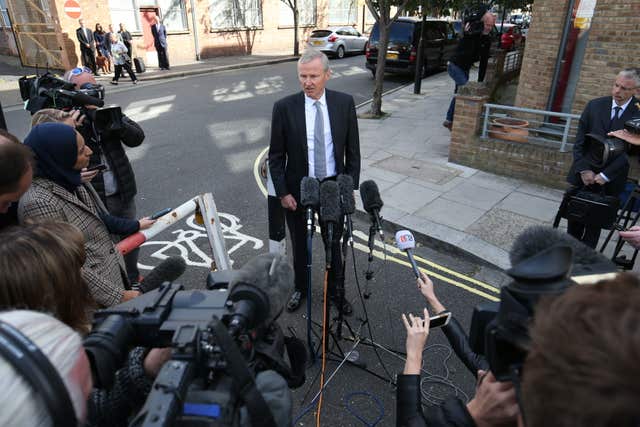 Pret boss Clive Schlee said the food chain was "deeply sorry" for her death after Coroner Dr Sean Cummings recorded a narrative conclusion at West London Coroner's Court on Friday.
Mr Schlee said Pret wants to see "meaningful change" come from the tragedy.
Commenting on what the Pret boss said, Natasha's mother, Tanya Ednan-Laperouse, 51, told the Today programme: "My reaction is that things need to start changing right now.
"Tomorrow is, for me, not soon enough. You don't need to have a law change to actually do the right thing.
"And it's not difficult for a company that produces the many millions of sandwiches and baguettes that it does to have a procedure in place to label accurately all their products."
Mrs Ednan-Laperouse said she hopes the entire food industry is listening, adding: "The law does need to be changed, society needs to be aware that people live who are poisoned by these foods."
She told ITV's Good Morning Britain: "If you met Natasha you'd remember her. She had a crazy sense of humour. She was 15, she loved life, she loved boys, she liked her friends, she was a really good sister, a really, really good sister.
"She was just … she would try anything. She had been up in a microlight when she was 10 years old, she took the wheel, she wanted to be a pilot. It's so ironic. She had big dreams."