Ryanair has issued a profit warning after suffering the effects of recent crew strikes and rising fuel prices.
The budget airline said on Monday that full-year profits will be 12% lower than expected, having dropped its guidance to between 1.1 billion euro and 1.2 billion euro (£978 million to £1 billion).
It had previously expected profits to fall within a range of 1.25 billion euro to 1.35 billion euro (£1.1 billion to 1.2 billion).
Ryanair said pilot and cabin crew strikes in September had taken their toll, knocking passenger numbers and resulting in passenger compensation costs.
It also has hit customer confidence in the company, with passengers making fewer forward bookings into the third quarter including for the October school half-term and Christmas.
That was on top of rising oil prices, which have bumped up Ryanair's fuel bill.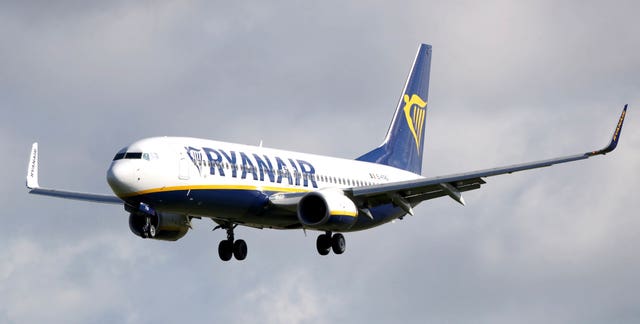 "While we regret these disruptions, we have on both strike days operated over 90% of our schedule.
"However, customer confidence, forward bookings and Q3 fares has been affected, most notably over the October school mid-terms and Christmas, in those five countries where unnecessary strikes have been repeated."
Both second-quarter and third-quarter traffic and airfares will be "somewhat lower than expected" as a result of the strikes, which Ryanair said went ahead despite having "agreed to meet union demands" for the likes of a local contracts, local law and a five-week arbitration with pilots in Germany.
The airline said further staff strikes could force the company to issue future profit warnings.
"Ryanair cannot rule out further disruptions in Q3, which may require full-year guidance to be lowered further and may necessitate further trimming of loss-making winter capacity."
Its guidance does not include the approximately 150 million euro (£133.5 million) in exceptional losses attributed to Laudamotion, the Austrian carrier which Ryanair acquired earlier this year.
Ryainair has now cut its capacity for winter 2018 by 1% in response to the additional pressures.
Starting from November 5, it will close its four-aircraft Eindhoven base, its two-aircraft Bremen base and reduce its five-aircraft Niederrhein base to three.
Most routes will either continue with remaining aircraft, or foreign and non-German aircraft.
"All affected customers have been contacted by email/SMS this morning and will be re-accommodated on other flights or refunded as they so wish," Ryanair said.
"We will also now consult with our pilots and cabin crew at these three bases to minimise job losses.
"We expect to offer our pilots vacancies at other Ryanair bases but, as we have a large surplus of winter cabin crew, we will explore unpaid leave and other options to minimise cabin crew job losses."
Ryanair shares were down more than 82% in morning trading.
It dragged down FTSE 100 firm easyJet, which was one of the worst performers on the index, down 5.7%.