Prime Minister Theresa May has said the Government will look at companies' responsibilities in relation to food labelling, following the death of a teenager who suffered an allergic reaction to a Pret A Manger sandwich.
Environment Secretary Michael Gove said on Monday he had instructed civil servants to investigate a law change after 15-year-old Natasha Ednan-Laperouse's death highlighted the "importance of acting urgently".
Natasha, from Fulham, south-west London, collapsed on board a flight in July 2016 after eating an artichoke, olive and tapenade baguette she had bought at Heathrow Airport.
The coroner at her inquest last week said she died of anaphylaxis after eating the Pret sandwich containing sesame, which she was allergic to.
Asked whether the Government would bring in a "Natasha's law" to try to prevent further deaths of this kind, Mrs May told BBC1's Breakfast: "Obviously, this was an absolutely tragic case and our thoughts are with her family and friends over what happened.
"We have obviously to look at this issue, we have to look at the responsibility of individual companies as well.
"This is something that has been an absolute tragedy and our sympathies and condolences are with her family and friends."
Natasha's father Nadim said she died because of "inadequate food labelling laws", and joined the rest of her family in calling for a change in the law to save lives.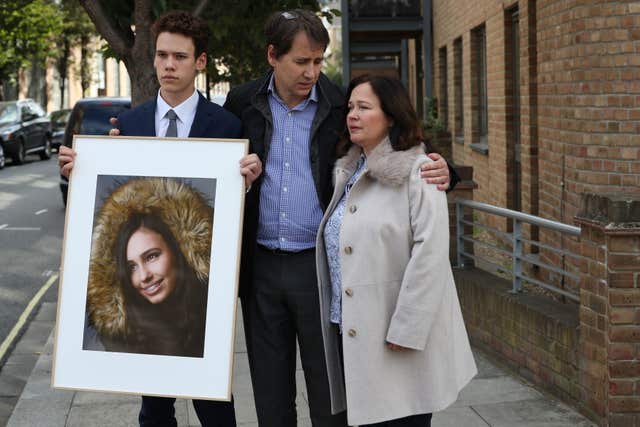 Currently, non-prepackaged foods do not have to a have a specific allergen label attached.
Jill Paterson, of law firm Leigh Day, who represents the Ednan-Laperouse family, said: "We continue to work with Natasha's family to explore their legal options to make Natasha's Law a reality and ensure a lasting legacy for Natasha.
"We are pleased that the Government has taken note of this tragic case and has vowed to make change – we hope that they follow through with this promise and make the changes swiftly and decisively to prevent any other family having to suffer as Natasha's family did.
"We believe that it is important that allergy sufferers be involved in any consultation, not just industry.
"When it's a matter of life or death, everyone should be able to have confidence that they know what allergens are in the food that they buy.
"The regulations desperately need to change to ensure that this is the case, but it shouldn't take a change in the law for companies to do the right thing."