The Queen jokes about how she is not built for sitting cross-legged in a documentary about her global role.
In the second part of ITV's Queen Of The World, the monarch is seen chatting about a trip she made to the Pacific island of Tonga.
She recalls how she was welcomed with a performance of Polynesian nose flutes, and that she found it difficult to sit cross-legged, as is the custom in Tonga.
Asked by Elizabeth Kite, winner of a Queen's Young Leaders Award, if she enjoyed her time in Tonga, the Queen replies: "It was wonderful. We had people playing the nose flute outside the window.
"Just the most extraordinary thing. Sounds awfully uncomfortable but they play it rather well … The only thing I found difficult was sitting cross-legged."
She adds: "It's quite painful for people who are not built in the same direction."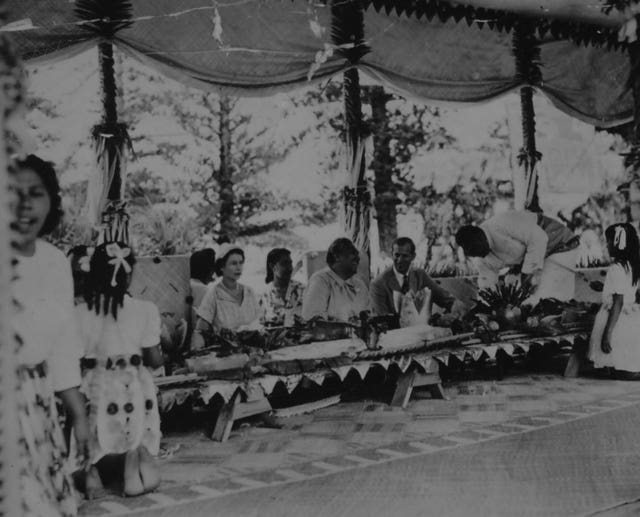 The monarch, who has been head of state for 66 years, also talks of how she has met an "awful lot of people" in her role.
She says of Tonga: "I haven't met the new (king).
"But, you see, I haven't been for such a long time. I've met an awful lot of people."
The clip also shows the Queen taking charge and making sure everything is running smoothly for the audience with the Queen's Young Leaders, by directing a member of staff to open a door.
"Can you open it? No, no this door – push it, push it open, thank you. Otherwise they can't get in!" she says with a smile.
On another occasion, she is shown helping the Governor General of Papua New Guinea after knighting him, directing him: "Turn around the other way, because that's where the cameras are."
The two part series examines the Queen's role as head of the Commonwealth.
Queen Of The World concludes on Tuesday October 2 at 9pm on ITV.