Theresa May sought to play down the significance of Boris Johnson's arrival at the Conservative conference for an eagerly-anticipated speech which many see as part of an effort to replace her as Tory leader.
The former foreign secretary's flying visit to Birmingham was dominating the Tory gathering, after he publicly branded Mrs May's Brexit plans "deranged" and then appeared to mock her by being photographed running through a wheatfield.
The Prime Minister's decision to announce her long-awaited immigration policy late in the evening before Mr Johnson's speech was seen by some as an attempt to steal the media spotlight away from her most high-profile critic.
In a round of broadcast interviews ahead of Mr Johnson's arrival, Mrs May did not mention him by name and sought to divert discussion away from him.
Asked on BBC1's Breakfast what her relationship with Mr Johnson was like, she laughed and said: "Well, I'm sure that's going to be a very lively event this evening.
"At this conference what we're focusing on is the opportunity for this country once we leave the European Union and the opportunity that we want to ensure that people in this country have."
And she made clear she was not ready to hand over the reins of power, telling BBC Radio 4's Today: "I'm in this for the long term, not just for the Brexit deal but actually for the domestic agenda we are setting out at this conference."
Mr Johnson will use his lunchtime speech to a meeting on the fringe of the Birmingham gathering to urge activists to "believe in Conservative values".
In what will undoubtedly be seen as a bid to position himself as an alternative leader, Mr Johnson will not only restate his opposition to the Prime Minister's handling of Brexit but call on Tories to focus on law and order, tax cuts and house-building in order to defeat Labour.
His call for Tories to stick to their tax-cutting guns will come as a rebuke to Chancellor Philip Hammond, who has openly admitted taxes will rise to help pay for the £20 billion spending boost promised to the NHS.
The Tory gathering in Birmingham is becoming a grudge match between the former foreign secretary and the Chancellor, who launched a savage assault on Mr Johnson in a series of newspaper and broadcast interviews.
Mr Hammond mocked his former Cabinet colleague by mimicking his style of speaking in an interview with the Daily Mail, in which he predicted that Johnson will never become PM.
Accusing Mr Johnson of lacking the attention to detail to succeed in "grown-up politics", he dismissed the "super-Canada" Brexit deal favoured by the former foreign secretary as a "fantasy world" plan.
Extracts released ahead of Mr Johnson's speech suggest he will present himself as ready to stand up for Tory values and lead a fight against Jeremy Corbyn's Labour.
In what may be seen as a swipe at Mrs May's focus on righting "burning injustices" in society, he will urge the party not to "ape Corbyn" but to "take basic conservative ideas and fit them to the problems of today".
He will say: "We must on no account follow Corbyn, and start to treat capitalism as a kind of boo word.
"We can't lose our faith in competition and choice and markets but we should restate the truth that there is simply no other system that is so miraculously successful in satisfying human wants and needs.
"We should set our taxes to stimulate investment and growth. We should be constantly aiming not to increase but to cut taxes.
"It is the conservative approach that gets things done, so let's follow our conservative instincts."
Attacking Mr Corbyn's leader's speech to Labour's conference in Liverpool last week, Mr Johnson will say: "It was astonishing that he had absolutely nothing to say about the wealth-creating sector of the economy – the people who get up at the crack of dawn to prepare their shops, the grafters and the grifters, the innovators, the entrepreneurs – he didn't mention any successes.
"We Conservatives know that it is only a strong private sector economy that can pay for superb public services and that is the central symmetry of our one nation Toryism."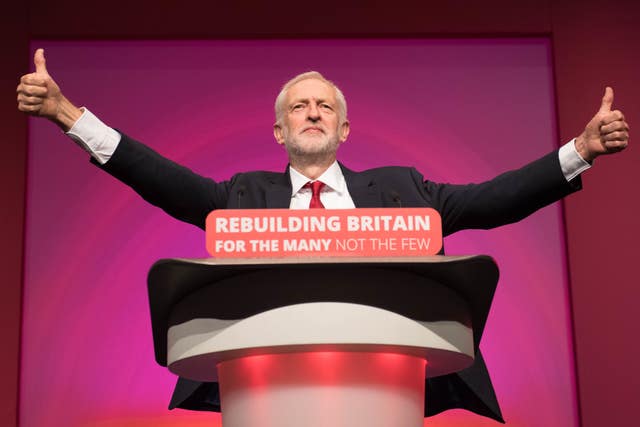 But his scheduled speech on the fringe is the hottest ticket of the four-day gathering, where there has been open warfare over Brexit, which critics say he has done nothing to calm.
He used a Sunday Times interview to describe Mrs May's own policy on EU withdrawal as "deranged" and "preposterous".
And he pointedly contrasted his record as the figurehead of the Leave campaign with that of the Remain-backing Mrs May, saying: "Unlike the Prime Minister, I fought for this."
Tory party chairman Brandon Lewis sought to play down the impact of Boris Johnson's appearance at the conference.
"Boris was at Chequers, he resigned after Chequers, I don't think his position is news to anybody, it's a position he has held for the last few months," he told the Press Association.