The family of a teenager who died from an allergic reaction to a Pret A Manger sandwich have "cautiously" welcomed the chain's move to introduce full ingredient labelling on products.
Natasha Ednan-Laperouse, 15, from Fulham, south-west London, collapsed on board a flight in July 2016 after eating an artichoke, olive and tapenade baguette she had bought at a Pret outlet in Heathrow Airport.
The coroner at her inquest last week said she died of anaphylaxis after eating the sandwich containing sesame, to which she was allergic.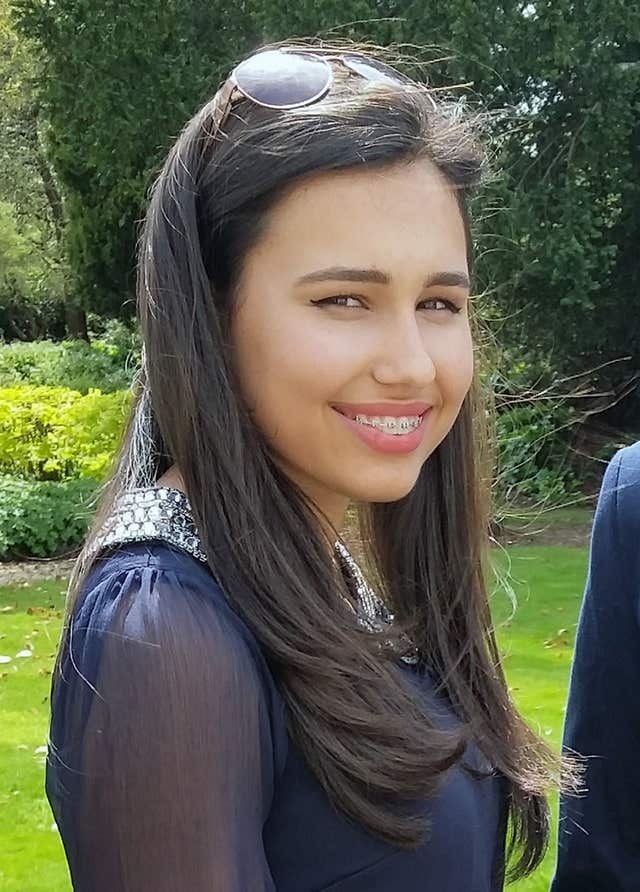 The food company said it will start trialling full ingredient labelling on product packaging from next month, adding that this will be rolled out to all UK outlets as quickly as possible.
Natasha's parents, Nadim and Tanya Ednan-Laperouse, said: "We cautiously welcome the decision by Pret A Manger, and we hope this will quickly lead to improved labelling across all their stores.
"Pret says it has recognised there is much more it can do; we agree. We will be inviting them to meet with us to outline how we think they can contribute to genuinely meaningful change."
Jill Paterson, from law firm Leigh Day, who is representing Natasha's family, said: "The decision by Pret A Manger concerning labelling on all their products is to be welcomed, but deeds mean more than words.
"We will be working closely with our clients to arrange a lasting legacy for Natasha, not just new legislation but also meaningful change for all people with allergies.
Mr Ednan-Laperouse said Natasha died because of "inadequate food labelling laws", and joined the rest of her family in calling for a change in the law to save lives.
"I said we would learn from this tragedy and ensure meaningful changes happen.
"I hope these measures set us on course to drive change in the industry so people with allergies are as protected and informed as possible.
"Nothing is more important to Pret right now."
Pret said it is committed to working with others, including the Government, regulatory authorities, charity groups and industry peers "to secure the legislative changes necessary to better protect people with allergies".
The company said that, in the coming weeks, it will ensure that prominent allergen warning stickers are placed on all individual freshly made products.
It has also committed to ensuring that additional allergen warning signs are displayed in shops, and full ingredient information, including allergens, for all products is made available online and in shops.
A spokeswoman for the Department for Environment, Food and Rural Affairs (Defra) said: "We welcome the news that Pret have announced they will be introducing full ingredient labelling, including allergens on all their products. However, following the tragic death of Natasha Ednan-Laperouse, there is a clear need to review food labelling.
"That is why we are currently reviewing our approach to give consumers more information. A critical part is looking very closely at how we can improve and strengthen domestic regulations to make sure all UK consumers have the protections required."
Natasha's parents said earlier this week that companies should not wait for a change in the law on food labelling before "doing the right thing".
Prime Minister Theresa May has said the Government will look at companies' responsibilities on food labelling, while Environment Secretary Michael Gove said he had instructed civil servants to investigate a law change after the teenager's death highlighted the "importance of acting urgently".
Currently, pre-packaged foods do not have to a have a specific allergen label attached.
Natasha had been on her way to a four-day break in France with her father and best friend when she fell ill on a British Airways flight from London to Nice.
Video footage released by her family shows Natasha smiling, putting her thumbs up to the camera and holding hands with her friend moments before she fell ill.