Campaigners have gathered outside the High Court ahead of a legal battle against controversial plans to expand Heathrow Airport.
Councils and environmental charities are challenging the UK Government's decision to approve the building of a third runway.
A crowd of about 50 protesters gathered outside the court in London on Thursday to hear speeches from prominent opponents of the expansion including shadow chancellor John McDonnell and Green Party co-leader Jonathan Bartley.
Mr McDonnell, whose Hayes and Harlington constituency is one of those affected by the plans, said up to 4,000 homes could be damaged or lost if the third runway goes ahead.
"It isn't just our homes, it isn't just our community, this is our planet itself," he said.
"This will be such a retrograde step in the campaign that we have to ensure climate change is halted.
"This will undermine any credibility of any government to in any way say they are tackling climate change.
"Yes, we are opposed to it because we are losing are homes but we're also opposed to it because of the threat to the planet itself."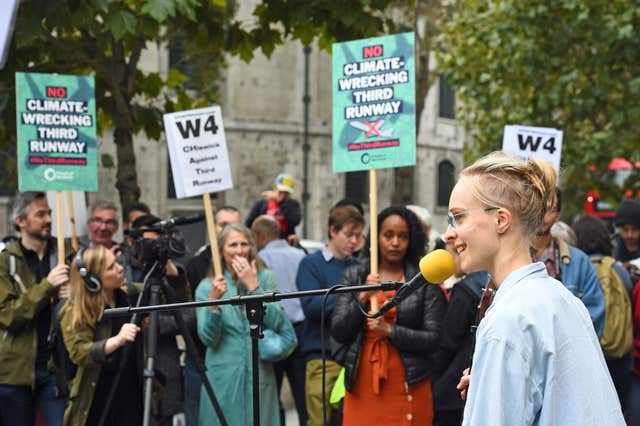 "If Boris Johnson would come down, I would stand shoulder to shoulder with him for the first time in my life to stop Heathrow expansion – but I suspect he won't show."
The case is being brought against Transport Secretary Chris Grayling by local authorities in London affected by the expansion and campaign groups including Friends of the Earth and PlanB.
The coalition claims the government's National Policy Statement (NPS) setting out its support for the project fails to properly deal with the impact on air quality, climate change, noise and congestion.
When Mr Grayling was notified of the proceedings in July, Mayor of London Sadiq Khan said: "Heathrow expansion will result in hundreds of thousands of people being blighted by intolerable noise levels and worsening air quality in an area where pollution is already well above legal levels.
"The government has failed to demonstrate how it will fund the billions of pounds needed to improve road and rail connections to the airport."
Support from Labour MPs helped push through the proposals to expand Europe's busiest airport with an overwhelming majority of 296 in a Commons vote last month.
Mr Grayling said the new runway would set a "clear path to our future as a global nation in the post-Brexit world".
Oliver Hayes, climate change campaigner at Friends of the Earth, said: "Heathrow is already the single biggest source of emissions in the UK.
"Adding a third runway will make it virtually impossible for us to meet our climate change targets and demonstrates a shocking willingness to leave future generations stranded with climate-damaging infrastructure."
Plan B director Tim Crosland said: "The broad coalition of devolved government and civil society lining up against the government is proof that this is not a political issue, it's a coalition for the future of life on earth – one that everyone can get behind."
A Department for Transport spokeswoman said: "Expansion at Heathrow is a critical programme which will provide a boost to the economy, increase our international links and create tens of thousands of new jobs.
"As with any major infrastructure project, we have been anticipating legal challenges and will robustly defend our position.
"Today's hearing does not impact on the work Heathrow is undertaking on its application for planning consent or the timetable to deliver this much-needed runway."
A Heathrow spokeswoman said: "We are participating in the legal challenges as an interested party given our role as the promoter of this critically important, national project.
"Our work in delivering Britain's new runway will continue in tandem with this process following overwhelming support in Parliament.
"We remain focused on the work needed for our development consent order submission in 2020 and we are getting on with the delivery of this project which will benefit the whole of the UK."